During world war II, Rover worked on the new gas turbine engines. This work subsequently moved to Rolls Royce who went on to become a major manufacturer of jet engines after the war. However Rover maintained an interest in gas turbines and made a number of gas turbine powered cars. An early prototype was Jet 1, unveiled in 1950. It reached 90mph (140km/h) at 50,000rpm but the fuel consumption was a poor 5 to 7mpg (40 to 50L per 100km); it could run on petrol, diesel or paraffin. The engine is mid-mounted. Jet 1 is in the Science Museum, South Kensington, London.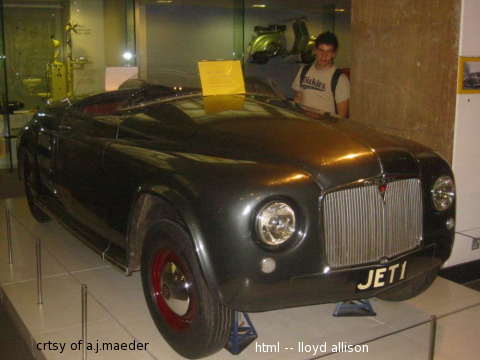 The Rover T3 could have formed the basis of an acceptable production car; it was rear-engined and had four-wheel drive, perhaps to keep a light front-end under control.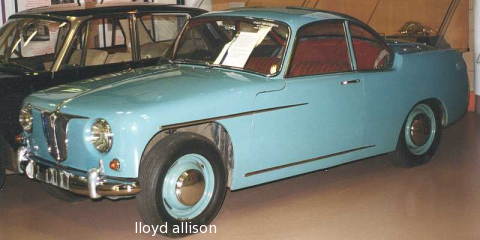 T3
The Rover T4 looks for all the world like a modified P6 / Rover 2000 / 3500 fitted with a gas turbine engine. The Rover 2000 had unusual front suspension making for a wide engine bay, possibly to fit the gas turbine. The gas turbine version did not go into production but the 3.5L V8 later fitted in the space provided.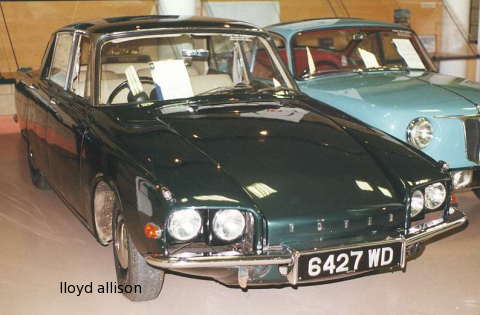 T4
A Rover/BRM gas turbine powered coupe performed creditably in the 1963 LeMans 24 hour race, driven by Graham Hill and Richie Ginther. It averaged 107.8 mph and had a top speed of 142 mph down the Mulsanne straight. It ran again in 1965, averaging 98.8 mph, fitted with a 126 h.p. Rover turbine. Maximum rpm were 60,000! It is very difficult to make a gas turbine that is both small and fuel efficient. The second run may have been slower either because the car had a less powerful engine, or because it was fitted with a heat-exchanger (regenerator), or both. The car is now held at the British Motor Industry Heritage Trust museum at Gaydon -- L. Allison.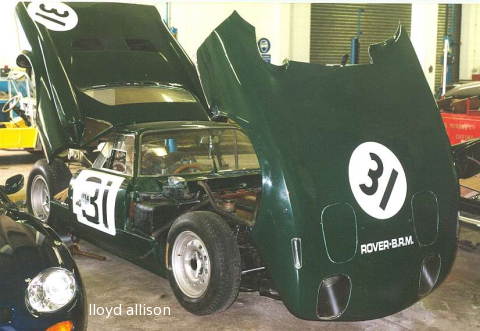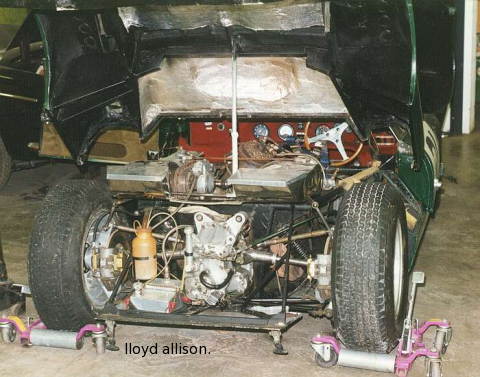 Stationary Gas-Turbines
Rover gas-turbines were manufactured for a variety of stationary applications. One hoped-for market was in emergency pumps, e.g. in marine use; a gas-turbine is light and can be run quickly up to power.
A number were built for educational and training purposes, typically connected to a dynamometer and test-rig to measure pressures, temperatures and fuel consumption against revs, torque and power. A large trumpet fed into the air inlet. Air flowed down the black ducts to the gas turbine. The compressor was a single centrifugal stage. The high-pressure air was taken up and sideways to the reverse-flow combustion chamber. The hot exhaust gases passed back down to a single-stage axial-flow turbine mounted on the single shaft or "spool". The shaft drove the compressor, and also the external load via reduction gears.
A plate on the combustion chamber casing of one unit read: Rover 1960, Rover Gas Turbines Ltd., Solihull, England. Manufactured by Rover Gas Turbines Ltd. under licence from the Rover Co. Ltd. under the following British patents and patent applications....etc..
Some Sources:
G. Smith. `Rover's Turbocar Operation and Design.' SAE Journal, pp.36-38 and pp.62, July 1950.
Rover T4. The Journal of the Land-Rover Owner's Club, Vol.5, June 1962.
Smith. `Driving the (Woosh) Rover BRM.' Car and Driver, August 1966. [Thanks to Trevor Easton]
`Gas Turbine Cars: Milestones in Motoring.' The Car, Vol.6, part 71, pp.1402-1407, 1986.