1958-1976: The Haflinger is a small light four wheel drive built by Steyr Daimler Puch of Graz, Austria. It can carry four, and can (just) be lifted, or at least man-handled, by four men which is useful on bad days.
Power comes from a 643cc, two-cylinder air-cooled engine. The basic vehicle is a soft-top, but a variety of special bodies and equipment were added by specialist firms. For example, Haflinger fire engines found a role in ski-resorts in the European Alps.
Haflinger 700 AP, soft-top, 2 seats + 2, 2 "doors"

Loa 2830mm, width 1350mm, height 1740mm (canopy)

Wheelbase 1500mm, track 1130mm/1130mm, grnd clearance 240mm

Approach 45°, departure 40°

Air-cooled, 643cc, petrol, 2-cyls, carb., 2-valves/cyl, ohv

Bore 80mm, stroke 64mm, c.r. 7:1 (or 6.7:1 or 7.8:1)
Power 24ps at 4500rpm

Transmission 4-speed manual (later 4+crawler), part-time 4WD

Suspension swing axles & coils, brakes drum/drum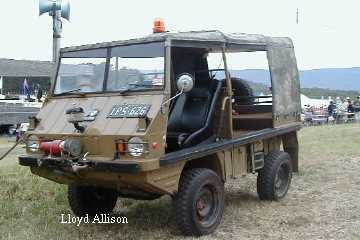 1971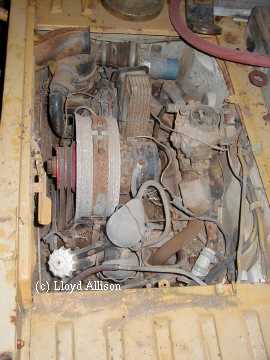 Left: 643cc of throbbing power.
Below: Note the back-bone chassis and a rare PTO.