T813 8×8
1960s: Development of the Tatra 813 by the Czechoslovakian manufacturer.
1968: Production started.
1982: Production stopped, replaced by the T815.
The truck has a back-bone chassis, the drive-line passing bown the centre of the back-bone. Swing axles are hinged off the back-bone - just like the smaller Pinzgauer. Military versions have a central tyre inflation system and a 20-ton winch. A dozer blade can be fitted to the front - Bruce Curtis.
T813, B. Curtis, Stu Smith
Tatra 813 8×8 drop-side truck, 1+6-seats, 4-doors

Loa 8.75m, width 2.5m, height 2.7m (cab)

Wheelbase 1.65m + 2.2m + 1.45m, track 2.03m, grnd clearance 0.4m

Weight 14,000kg (unladen), GVM 22,000kg, towing to 100,000kg (braked!)

Tatra T930 air-cooled, 17.64L, diesel, V12

Power 250hp at 2000rpm, torque 709ft-lb at 1200rpm
(later T813-12 19L 310hp multi-fuel engine)

Transmission (5 fwd + rev manual) x (2 overdrive) x (2 transfer case), differential locks, hub reduction gearing 5.75:1 overall axle gear ratio

Top speed 80km/h (50mph)

Suspension indepdent by swing axles, air brakes

Tyres 15×21 CTIS, fuel-tank 520L

Winch 20,000kg, 354ft of 7/8" steel cable, forward or rearward winching

electrical system 24V
Variants include a pontoon bridge launcher, scissor-bridge layer, dump truck, crane and a prime mover. The chassis was used for the M1972 multiple rocket launcher. There are 6×6 and 4×4 versions.
T815 8×8, c1982 . . .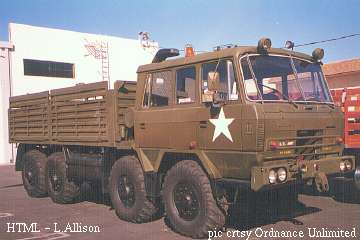 Tatra T815

Crew cab + sleeper, truck with drop-side tray, 6 seats, 4 doors

Loa 10.36m (34'), width 2.5m (8' 3")

Grnd clearance 0.4m (16")

Weight 15,000kg (34,000lbs) (unladen), max load 15,000kg (34,000lbs)

Multi-fuel V12 air-cooled engine

Transmission 5 speed gearbox with 2-speed transfer case

Suspension independent by swinging-arms & leaf springs.

Max speed 80kph (52mph)

Tatra T815 8×8 2-door version - loa 9.36m (30' 8")

Also a 6×6 version