L2104
The Volvo L2104 is a 4WD radio & command vehicle for the Swedish army. Prototypes were developed in 1952. Production ran from 1956 to the end of the 1950s.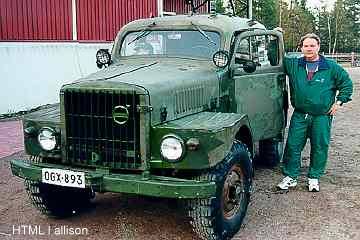 L2104
Volvo L2104 command car, 5-seats, 4-doors;

loa 4.6m, width 1.9m, wheelbase 2680mm, track 1550mm/1660mm, grnd clearance 270mm, turning radius 6m; approach 30°, departure 30°,
weight 2850kg (unladen), GVM 3200kg;
Volvo ED, 3670cc, petrol, 6-cyls, 2-valves/cyl, side-valve, power 90hp at 3600rpm;
transmission 4m (Volvo E9); 2-speed transfer case, part-time 4WD; vacuum operated rear differential lock;
suspension live-leaf/live-leaf, brakes drum/drum;
tyres 9.00×16, fuel-tank 76L;
Thanks to Ari Myllyla.
BV202
The Volvo BV202E "Snowcat" is an amphibious cross-snow vehicle. Tracks enable a much lower ground pressure than wheels, lower even than a man on foot.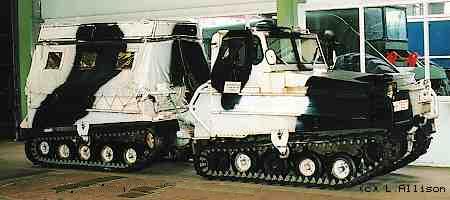 This one is in British Army winter camouflage colours and was at the Museum of Army Transport Beverley c1996. The BV202 is in service with the British Army for command post, repair vehicle and other duties.
The BV202E has a motor in the front unit. Power also passes to the rear articulated unit and drives all four tracks.