The Duro is a high-mobility off-road truck in the two to three tonne payload class, built by Bucher-Geyer AG of Switzerland.
The Swiss army, which had been a staunch buyer of the Steyr Puch Pinzgauer, held a competition for a new all wheel drive truck, the contract being awarded to Bucher in 1993. 2000 Duros were to be be delivered between 1994 and 1999.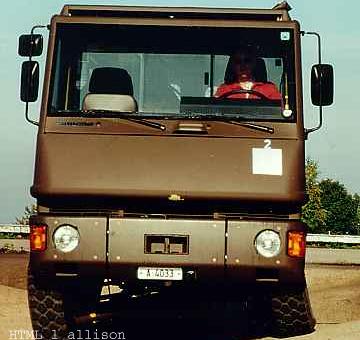 Duro
The Duro is powered by a 3.8L turbo-charged and intercooled diesel by VM, well known for making high speed diesel engines. The gearbox is an Allison four speed automatic. Bucher's own two-speed transfer case incorporates a centre differential of the Torsen type. The axle differentials are also Torsen units having a 2.23:1 ratio and the hubs contain further reduction gearing with a 4.07:1 ratio. The truck comes as a 4×4 in two wheelbase options and also as a 6×6.
The Duro has a conventional ladder chassis and can be fitted with a wide range of bodywork. The cab is made of aluminium panels for corrosion resistance and tilts forward for access to the engine.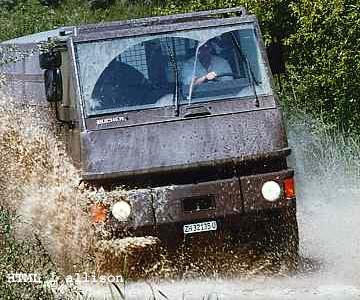 Duro
De-Dion suspension is fitted to all axles. This is quite unusual in an off-road truck, more commonly being found on sports cars. The De-Dion system uses a "dead" axle tube to link the left and right wheels. The differential is mounted on the chassis and the axle tube merely keeps the wheels parallel to each other. Drive is taken from the differential to the wheel hubs by drive-shafts fitted with c.v. joints. The De-Dion tube forms the base of a triangle with two large radius arms which locate it fore and aft, and a Watts linkage gives lateral location.
On a sports car, the De-Dion suspension is used to reduce unsprung weight and improve handling. Extra advantages on a four wheel drive are that the differential can be raised up out of harm's way and the dead axle tube can be curved upwards to improve ground clearance. The disc brakes are mounted inboard which reduces unsprung weight further, but also makes room at the hubs which are fitted with drop reduction gearing.
The radius arms of the front and rear axles are inter-connected on each side of the chassis by links and a rocker arm or stabilizer. This resists roll to the left or right on both axles together, as in cornering, but it permits the axles to roll in opposite senses for axle articulation off-road.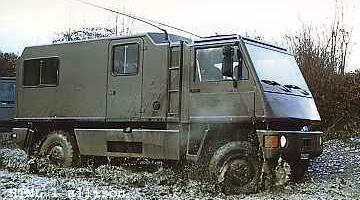 Duro
1997 Bucher Duro cab-chassis truck, 4×4, 2 seats (cab)

loa 5835mm, width 1960mm (body), height 2600mm (cab), wheelbase 3880mm, track 1680mm/1680mm, grnd clearance 360mm, approach 47°, departure 32°, ramp break over 152°;
weight 2890kg (unladen), GVM 6000kg, payload 200kg (cab), 2910kg (chassis);
VM EP638LI, 3749cc, diesel, 6-cyls, turbo, intercooler, 2-valves/cyl, bore 92mm, stroke 94mm, power 110kW at 4000rpm, torque 320Nm at 2100rpm;
transmission Allison AT 542 4-speed auto, Bucher V-2GS-TD 15, 2-speed transfer case (with synchro), hi 0.71:1, lo 1.42:1, diffs 2.23:1, hub gears 4.07:1;
suspension De-Dion with coil-springs, brakes discs (inboard) tyres 275/80R20 XZL/128K tubeless.
NB. Also available as a short wheel base 4×4, loa 5070mm, wheelbase 3230mm, payload 200kg (cab), 2770kg (chassis);
and as a 6×6, loa 6220mm, wheelbase 3230mm (1 to 2), 1150mm (2 to 3), payload: 200kg (cab), 3475kg (chassis).