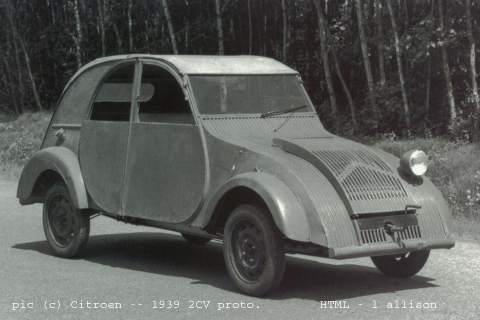 1939
Prototype
1939: 2CV prototype ready, but hidden away during WWII.

1948: 2CV (aka Deux Chevaux) launched at the Paris Motor Show -- "a car able to cross a ploughed field with a basket of eggs on the seat without breaking any of them.".

1990: End of 2CV production (in Portugal).
Citroen 2CV Sahara
1961: Citroen developed a four wheel drive version of the 2CV by putting a second engine and transmission in the boot.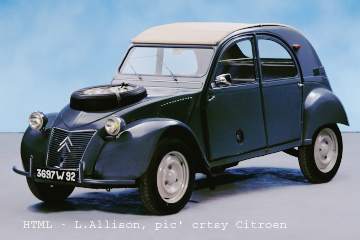 1961
1961 Citroen 2CV Sahara 4×4

Loa 1780mm, width 1480mm, height 1600mm, weight 735kg (empty)

Engines 2 × 2-cylinder 425cc = 850cc total

24bhp at 3500rpm

Transmission 2 × 4-speed manual + reverse

Suspension independent

Fuel consumption 9-litres per 100km. Speed 100km/h

Price FF 9,830 (1961).

Prototypes c1958, production 1961-1966.
The British built at least one prototype Mini Moke with twin engines.