The Mini Moke was motoring at its most basic - a box-sided tray on wheels with a windscreen and the simplest of seats. In a warm climate it was great fun for taking down to the beach, a sort of four wheeled motorbike, but it was very draughty in the cold and wet with the "rag top" up and it did not offer much protection when mixing it with semi-trailers on the freeway.
The Moke was born in response to the British Army's search for air transportable vehicles. It was certainly light and compact, particularly with the windscreen down, but the front wheel drive, small wheels and low ground clearance cannot have given sufficient mobility, although experimental four wheel drive mokes were built - with two engines and transmissions, power at each end!
The big military orders fell through but the Moke went on to become a cult, a real classic car. If buying a Moke: Mechanical parts are shared with the Mini and are quite readily available. The body will probably suffer from rust because of the limited weather proofing, and the vehicle may have been used on or near the beach, but it is of simple slab-sided construction and easy to work on.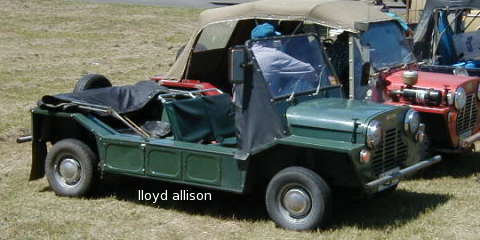 1967
1960, Austin investigate a light weight minimalist vehicle suitable for air transport for the British Army.

1963, Mini Moke prototype built but the Army abandons interest.

1964 August, civilian Mini Moke released, based on the front wheel drive Minicar with an 850cc engine transversely mounted.

1966, Moke production transferred to Australia.

1968, larger 13" wheels raise ground clearance to 8", 1100c engine fitted.

1972, Californian Mokes produced with 1275cc motor for the US market.

1981 November, Leyland Australia stops building Mokes but production is transferred to Portugal.

1992, Moke production stops in Portugal. Tooling sold to Cagiva of Italy who build 1500 Mokes.
4×4
The prototype twin-engined four-wheel-drive Mini Moke was just an experiment. The Moke started as a light 4x2 military project but did not have sufficient offroad capability and this was one attempt to rectify the problem with drive at both ends.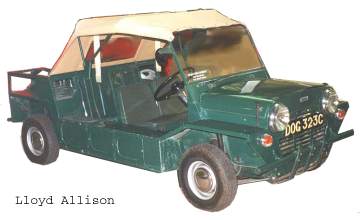 The twin gear levers should be joined by a linkage which is missing. There is only one clutch pedal and one accelerator, which serve both motors.
It must have had quite good performance, being a light, minimalist vehicle with 8-cylinders and 2 x 848cc to urge it along.
The twin engine idea was not new - Citroen actually put a twin-engined 2CV, the Sahara, into production.
Anyone who watched British RallyCross in the late 1960's may also recall one or more twin-engined mini-car specials in the competition.