1990: The Defender name was introduced, for what had been the 90-110 range, to cash in on the military connection.
A 1993 MY Land-Rover Defender 110 NAS (North America Spec.), 3.9 V8, 5spd, sold for us$123,200 at Bonhams Scottsdale Auction, 21 Jan. 2021.
1994: R380 5spd full-time 4WD transmission used.
1994 late: Engine limited to 300-series 2.5L TDi (except to special order).
1994 November: D130 crew cab made available in Australia:

2.5L TD, 5spd (R380), full-time 4WD, locking centre diff.
Unladen 2110kg, GVM 3500kg, payload 1390kg.
1996 LandRover Defender 110, Station Wagon-Top, 5+4 seats, 5 doors

Loa 4599mm, width 1790mm, height 2059mm, weight 1923kg (unladen)

GVM 3050kg, towing 750kg (unbraked), 3500kg (overrun), 4000kg (coupled)

Wheelbase 2794mm (110"), track 1486mm/1486mm, grnd clearance 215mm

Approach 50, departure 35, ramp break over 152

Turning radius 6.4m

300-series, 2495cc, diesel, 4cyl, Tdi (turbo direct-injection intercooled), 2v/cyl, ohv

Bore 90.5mm, stroke 97mm, c.r. 19.5:1
Power 83kW at 4000rpm, torque 265Nm at 1800rpm

Transmission 5m, hi/lo, full-time 4WD, lockable centre diff'

Suspension live-coil/live-coil, brakes disc/disc, transmission h/brake

Tyres 7.50x16, fuel-tank 80L

Rrp $40,590 ($au 1996)

Notes Also available as cab-chassis; hard-top (panel van) was dropped late 1996 (Aus)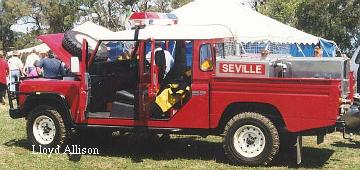 D130, 127" w.b.
A LandRover Defender 90 in Australia in 1998 for evaluation of vehicle monitoring equipment with which it had been fitted: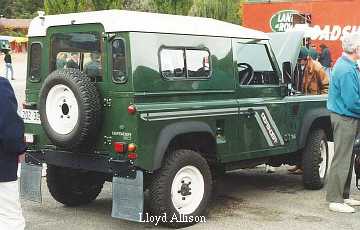 1998 D90
1998/ 1999: The Land Rover Defender got the new Td5 5-cylinder turbo-charged, intercooled diesel, in place of the 300-series 4-cylinder engine.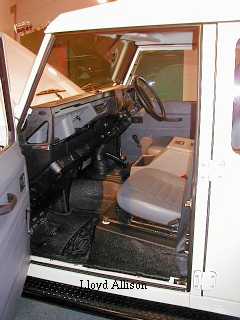 1999
2001 LandRover Defender Xtreme, station wagon, 5+4 seats, 5-doors

Loa 4599mm, width 1790mm, height 2035mm, ground clearance 215mm, wheelbase 2794mm

Approach 50°, departure 35°, ramp break over 152°

Weight 1977kg (unladen), GVM 3050kg, towing 750kg (unbraked)

Td5, 2495cc, 5-cyls, common rail, 2-valves/cyl, ohv

Bore 84.5mm, stroke 89mm, c.r. 19.5:1
Power 90kW at 4200rpm, torque 300Nm at 1950rpm

Transmission 5m, 2-speed transfer case, full-time 4WD, centre diff', traction control

Suspension live-coil/ live-coil, brakes disc/disc ABS

Tyres 235/85R16, fuel-tank 75L

Also available:

Defender 110 chassis cab
Defender 110 station wagon (not Xtreme, i.e. Rdinary))
Defender crew cab.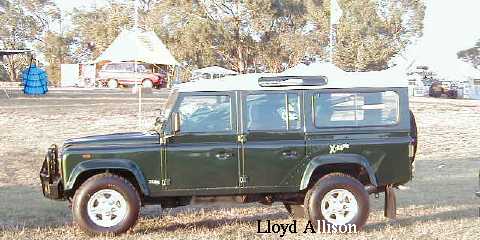 2001 Td5 Xtreme
2001 prices: 110 Chassis cab Td5 manual $37,563, 130 Chassis cab Td5 manual $41,940, 110 Wagon Td5 manual $38,033, 110 Xtreme Td5 manual $41,790, 130 Crew cab Td5 manual $44,618, air con' +$2.65K ($au 3/2001).
D130
D110 crew cab
2001 June: A V8 HCPU has a bit-part in 'Lara Croft, Tomb Raider', the movie.
| | |
| --- | --- |
| 2001 late: The 2002 m.y. Defender gets electric windows and one key now operates the doors and ignition (and remote locking). Heated seats and a heated wind-screen are options! The rear station-wagon style door is stronger and of zinc plated steel. | |
2002 October: LandRover announced it would start imports of the short wheelbase LandRover Defender 90 into Australia. "Australian specification Defender 90 will be available in a two-seat hard top wagon with 2.5-litre five-cylinder turbo diesel engine capable of 90kW at 4200rpm and 300Nm at 1950rpm." Also ABS brakes, traction control (ETC) and air-conditioning.
2003 February: There was a D90 Xtreme at the Melbourne Motor Show, but they are still not on sale (in .au) yet. It had electric windows(!) and the doors shut with a satisfying clunk.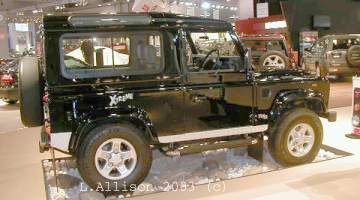 D90 2/2003
July 2003: Finally saw a new D90 Xtreme for sale -- at au$50.3K, although au$46K has also been mentioned.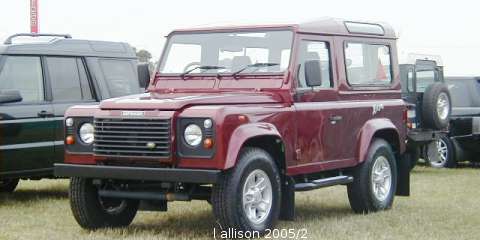 D90 2/2005
2007: The 2007 model-year LandRover Defender got a Ford engine, and a 6-speed gearbox. Power is about the same as the outgoing Td5 but, usefully, at lower revs and torque is up. The (.au) range seems to be a 5-seat 110 and 130, and a 7-seat 110. 50% more airflow is claimed for a new heater and ventilation system. All four seats in the D90 are forward facing, ditto the optional 3rd row in the D110 station wagon. LandRover even quote an acceleration figure: 0-100km/h in 15.8secs. "14 separate body styles - from pick-ups and soft-tops to crew-cabs and station wagons - are produced on the mainstream production line." and "[since] 2002, Defender has consistently sold an average of 25,000 units a year worldwide." [-LR]
2007 LandRover Defender 110 station wagon, 5/7 seats,

Loa 4639mm, width 1790mm (body), 1992mm (mirrors), height 2021mm, wheelbase 2794mm, track 1486mm/ 1486mm, ground clearance 314mm(?), turning circle 6.4m,

weight from 2041kg (unladen), towing 750kg (unbraked), 3500kg (braked),
approach 49°, departure 35&deg, ramp-over 150°,

Engine 2402cc, 4-cyl., turbo-diesel, "common rail", 4-valves/cyl., cast iron block, alloy head,

power 90kW at 3500rpm, torque 360Nm at 2000rpm,
bore 89.9mm, stroke 94.6mm, c.r. 17.5:1,

Transmission GFT MT 82, 6-speed manual, 2-speed transfer case, full-time 4WD,

1st 5.443:1, 2nd 2.839:1, 3rd 1.721:1, 4th 1.223:1, 5th 1.0:1, 6th 0.742:1, (reverse 4.935:1), hi-range 1.211:1, lo-range 3.269:1, diff ratio 3.54:1,

Suspension coil/coil, live axles, brakes disc/disc,

Tyres 235/85R16, fuel tank 75-litres, claimed fuel consumption 9.5 litres/100km (highway), 11 litres/100km (urban), 13.5 litres/100km (combined), the highway figure is more or less achievable with a light foot,

Prices: D110 stn wgn $48,990 (7-seats +$2K), D130 crew cab chassis $50,990 ($au, 2007 +orc),

110 stn wgn $48,990 (7-seats +$2K), 130 crew-cab $51,990 ($au 3/2008 +orc).
110 stn wgn £25,450 (uk, 1/2010).
2011: D110 stn wagon from au$49K +orc.
2008 June+, LR 60th anniversary: Defender SVX limited (1800 ww) edition $62,990 ($au) rrp, black 110 stn wgn with some extras, such as Recaro front seats.
After a time away, the D90 returned to .au, 2-door, 4-seat (au$45K+orc 3/2010).
A 'Mulgo' custom built 130 station wagon with a pop-top roof

at the

2011

Victorian 4WD Show, Wandin, .au.
2011, August: In the 2012 MY Defender, a 2.2-litre 4-cyl. turbo diesel with a diesel particulate filter (for EU5) replaced the 2.4-litre unit, supposedly with similar performance (120hp @ 3500rpm, 360Nm @ 2000rpm), 6-speed manual gearbox, from £21K, Nov. 2011.
2011, September: Land Rover revealed a concept 'DC100' Defender at the Frankfurt Motor Show, hinting at a 2015 model?
2012, January: New D90s seen advertised for au$40K inc. orc.
2016, Fri., January 29: The end of production of the Land-Rover Defender (H166 HUE, the 2,016,933rd) at Solihull.
2019, September 10: Land-Rover finally revealed the Defender replacement at the Frankfurt motor show, SWB "90" 3-door from £40±K, LWB "110" 5-door from £45,240, "commercial" from £35K+VAT, petrol I6 or diesels, 8-speed auto, full-time 4WD, 2-speed transfer case, all independent suspension, styling a little DC100 or Disco D3-ish.