1997 September: Details of the long awaited small LandRover, the Freelander, code-name CB40, were released at the Frankfurt Motor Show.
4-door station wagon or 2-door roll-top

loa 4382mm (inc' spare), width 1805mm (2074mm mirrors), height 1757mm wheelbase 2555mm (100.5"); ground clearance 200mm

Engines:

1.8L, petrol, 4-cyl, 4 valve/cyl or
2L 4-cyl turbo-diesel

Transmission front wheel drive with viscous coupling to rear wheels. (No low-ratio)

Suspension independent/ independent by MacPherson struts
The LandRover Freelander is essentially a front wheel drive car with a transverse engine and gearbox. Drive is also taken, via a viscous coupling, to the rear wheels. The rear differential ratio is slightly taller than the front (3.214:1 v. 3.188:1 with the petrol engine) so that some torque is always going through the rear wheels, even in the absence of any wheel slip at the front.
The 1.8 litre K-series petrol engine is shared with the MG-F sports car but here tuned differently. It is really too small, especially compared to the competition which has 2-litres, or more. The 2-litre turbo charged diesel, on the other hand, looks good for economical driving.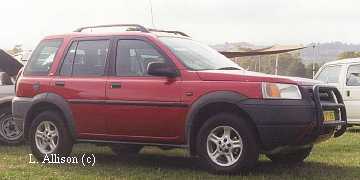 1998
LandRover Freelander 1998: bodystyle, 5 seats, 4 doors, driver's airbag

loa 4382mm (inc' spare), width 1805mm (2074mm mirrors), height 1757mm

wheelbase 2555mm (100.5"); ground clearance 200mm

approach 30°, ramp-over 156°, departure 34°

weight 1425kg (unladen), GVM 1960kg (petrol), 2050kg (diesel)

K-series, 1796cc, petrol, 4-cyls, mpfi, 4-valves/cyl, dohc

bore 80mm, stroke 89.3mm, c.r. 10.51
power 84kW (118bhp) at 6000rpm, torque 158 at 2750rpm

L-series, 1994cc, diesel, 4-cyls, direct injection, 4-valves/cyl, sohc

bore 84mm, stroke 88.9mm, c.r. 19.51
power 72kW (96bhp) at 4200rpm, torque 210Nm at 2000rpm

transmission 5-speed manual, the gearbox drives the front wheels directly and the rear wheels through a viscous coupling, no centre differential

suspension MacPherson-strut/MacPherson-strut, brakes disc/disc, ABS on XE models

tyres 195/80R15 on steel 5.5Jx15 std, 195/80R15 on alloy 5.5Jx15 (5 door XE), 215/65R16 on alloy 6Jx16 (3 door XE) or 225/55R17 on alloy 7Jx17 (accesory), fuel tank 59L

also available as 3-door 4-seats, 1425kg, softback version has removable rear roof

insurance rating NRMA 16 points

prices 3-door softback i $27,950, XEi $31,950, hardback XEi $33,450, 5-door wagon i $30,950, XEi $34,950, di $32,950, XEdi $36,950;
options (all models) air-con $2000,
options 5-door i/di ABS+ETC+HDC+air-con $3,800 ($au 1998)

competition Subaru Forester, Toyota RAV4

V6 & Td4

2000 August: A revised LandRover Freelander was released in the UK with a choice between a 2.5-litre V6 petrol engine, and a Td4 2-litre direct-injection diesel. The V6 (as in the Rover 75) develops 130kW at 6500rpm and 240Nm at 4000rpm. It can be had with a 5-speed automatic transmission with sport mode and Steptronic control. The Td4 is a 2-litre, 16-valve, direct injection engine, with "common rail" injection.

2001 February: 3-Door Softback V6 auto SE $37,950, 3-Door Softback V6 auto ES $41,950, 5-Door Wagon V6 auto SE $39,950, 5-Door Wagon V6 auto ES $43,950, 5-Door Wagon Td4 manual SE $39,950, 5-Door Wagon Td4 auto SE $41,950 ($au 2/2001).

2001

2003 August: The Freelander got the overlapping head-lights of the new LandRover "look", as on the current Range Rover and Discovery.

8/2003

July 2006: The all new Freelander 2 had grown by 200kg v. the previous model -- as cars almost always do.

ground clearance 210mm, wading 0.5m.

petrol

3.2 litre, straight-6 (I6), 171kW, 240Nm, 11.2L/100km claimed.

diesel

2.2 litre, 4-cyl, turbocharged, 118kW @ 4000rpm, 400Nm @ 2000rpm, 7.5L/100km claimed.

6-speed automatic in .au. (and manual transmission UK?).

5-star European NCAP European NCAP.

price from au$50K (SEi6).

2007 July: The Freelander 2 is on sale in .au.

SE, I6 $50K; HSE, Td4 $58K ($au).

2009 May: Si6 SE $49,990, TD4 SE $52,790, Si6 HSE $55,990, TD4 HSE $58,790 (rrp $au).

Freelander II (left) and I (right) in 2015

2008: Land Rover has been testing Freelander diesel-electric hybrid experimental prototypes with one eye on high fuel prices and another on EEC plans to restrict vehicle CO2 emissions. Features being tested include "an Electric Rear Axle Drive (ERAD)" allowing electric-only 4×4 drive, "a Crank Integrated Starter / Generator (CISG) ... a [288 v] lithium ion battery pack."

2011, March 28, Halewood, Merseyside: The 250,000th Freelander 2 was produced (and the 300,000th on 3 May 2012).

2011, September, .au: Freelander 2s were being advertised from au$48K, drive away.

2012, August: The Freelander 2 got a face lift and improved gadgetry.

2014: Land Rover announced the 2015MY Freelander replacement but dropped the name in favour of the 'Discovery Sport'.