Kubelwagen
Volkswagen made approximately 52,000 Kubelwagens for the German Army in the 1930s and during World War II. The Kubelwagen is rear engined and rear wheel drive - 4×2 only - based on the famous Volkswagen people's car or "VW Beetle". As such its offroad performance was little match for the 4×4 Jeep MB.
This Volkswagen Kubelwagen was at the Museum of Army Transport c1997.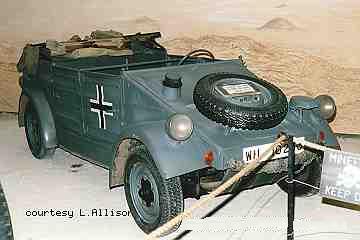 Volkswagen Kubelwagen:
loa 3740mm, width 1600mm, height 1650mm, wheel-base 2400mm
engine air-cooled 4-cyl, 985cc, 24hp at 2000rpm, rear engined, rear wheel drive, 4×2.
8/1997, Jeff Tickner writes:

Actually a very few 4WD Kubelwagen were produced from 1944-45. They were 4WD in first gear only. They were based on the design of the Schwimwagen, the amphibious version of the Kublewagen. It has a prop that swings down and connects directly to the crank via a square-drive socket. The Schwimwagen was made 4WD in first gear so you could get out of the water. VW also made the Komanderwagen, which was sort of a jacked-up VW Beetle, also 4WD in first gear in very limited quantities. Hot VWs Magazine has covered these vehicles, including a collection in Norway that consists of one of each of these rare vehicles (although the Kubelwagen is not 4WD).
VW 181
The second generation VW Kubelwagen: these 1900+ units were produced by VW in Germany under contract for the Bundeswehr. They were outfitted with the military package (option code M63) from 1969 to 1979. Standard features include Stationary petrol heater, black-out lights, low compression engine, skid plates, brush guards, first aid holder, 4 rifle holders, water-proof ignition and charging system, double shielded wires. There were civilan models made in Mexico and sold in the USA in 1973 and 1974, and some right hand drive models sold in England. The German Army used a most of these vehicles as Radio and scout cars, although some were assigned in almost every unit.
- Kubelken (9/'97).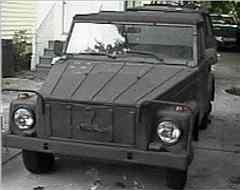 and Brian Barrett-Park writes:

The "VW 181" civilian version (mentioned) was known (apparently officially) as the "VW Thing" here in Canada. I still see them occasionally, but there were never very many of them. Most seem to be in really bright colours, which was VW's style in the early '70's.

The more recent Iltis, although a Volkswagen design, was later produced by Canada's Bombardier (builders of the famous "Ski-Doo" snowmobile) and purchased in significant numbers by the Canadian Armed Forces. Training manoeuvres lead to convoys of dozens of military vehicles travelling the highway between the bases in Alberta, and there are always at least a dozen Iltis included in the convoys I see. [2/1998]
loa 3.8m, width 1.64m, height 1.6m, track 1.35m, wheelbase 2.4m
Engine: petrol, air-cooled, 4-cyl, horizontally opposed, 1.5L (later 1.6L)
Transmission: 4m, 4x2
Iltis
The Volkswagen Iltis grew out of a 1960's project for a European Jeep with amphibious abilities.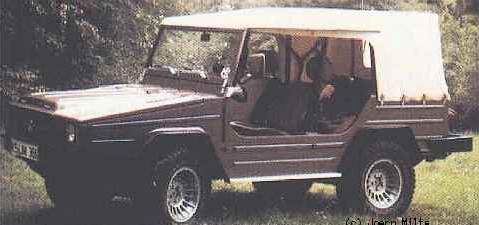 This fell through and the German army later issued a non amphibious specification. The VW Iltis won this latter competition.
The example (above) is owned by Joern Milte.
Volkswagen Iltis 4WD, 1970s...1980s
soft-top, 4 seats
loa 3.9m, width 1.52m, height 1.84m
wheelbase 2017mm, track 1.24m/1.25m, grnd clearance 225mm
approach 40, departure 30
turning radius 5.5m
weight 1550kg (unladen), GVM 2050kg, towing 700kg (unbraked)
1.7L, petrol, 4-cyls
transmission 5m (1st is a crawler), part-time 4WD
tyres 6.50x16, fuel-tank 85L
The VW Iltis has been in service with the Canadian army at least since the early 1980's. They are still in heavy use. I have sat in one before, they have a plastic footwell, possibly the whole body. The armed forces personnel explained that unloaded they can float. They are fitted with large brush guards and long antennas. - Ken Macfarlane [12/1998]