Carmichaels built 6x4 conversions of Range Rovers, with a lazy third axle, for use as high-speed crash- and fire-tenders. Their fire tenders were two-door Range Rovers with a front-mounted water pump driven from the V8's crank-shaft.
The Ministry of Defense (MOD) ordered 6x4 Ranger Rovers for the RAF but required Land-Rover to be the sole supplier [Mackie] so they subcontracted to Carmichael for the chassis conversion and to Gloster Saro for the fire fighting body and equipment. These are 4-door Range Rovers and use an internal water pump driven from a gearbox power take-off (PTO).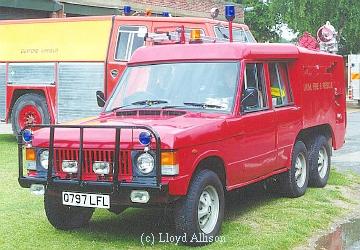 This Range Rover, on duty at Duxford Museum, started out as a 6x4 conversion with a lazy third axle, but it has been converted to 6x6, using a drive-through differential on axle number two, because airfield fire tenders now require all wheel drive.