Range Rover I (1970-1995)
1970, June 17: Land-Rover caused a stir by releasing the Range Rover with a 3.5-litre alloy V8 engine, coil spring suspension, load levelling, disc brakes and full-time four wheel drive, all for £1,998. There were waiting lists to buy Range Rovers which could be immediately resold for more than the factory charged.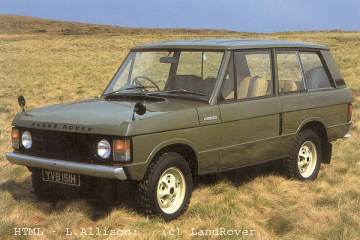 YVB151H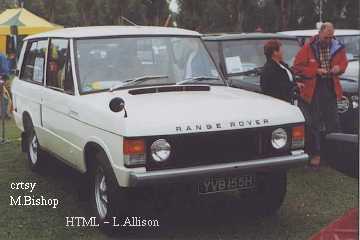 A pre-production Range Rover, YVB155H, at Billing.
1971-1972: The British Trans-Americas Range Rover expedition. The Darien Gap was the most difficult section.
1973: Power Steering was added.
1979: A modified Range Rover driven by Alain Genestier and Joseph Terbiaut won the first Paris-Dakar rally (another won in 1981) -- LR.
1981: A 4-door Range Rover was introduced.
1982: Land-Rover offered an automatic transmission option, although specialist firms had been performing conversions for some time.
1983: A 5-speed manual gearbox was introduced.
1985: The V8 engine got fuel injection.
1986: A 2.4-litre VM diesel was offered as an alternative to the thirsty petrol V8. This was aimed at the European market where fuel is expensive.
1987: Land-Rover reentered the North American market.
1988: The Vogue SE model was introduced.
1989: The petrol V8 grew to 3.9-litres (the VM diesel to 2.5-litres in 1990).
1992: A new transfer case was introduced, using a Morse (silent) chain (instead of three gears) and with a viscous coupling on the centre differential. Air-bag suspension became an option on the top models.
A 108" long wheelbase model was added which gave a much better look under four doors. A 4.2-litre V8 became available. Land-Rover's 200 Tdi diesel replaced the VM unit.
1994: An all new Range Rover (P38a) was released, although the old model continued to be made as the 'Range Rover Classic' until February 1996 by which time 317,615 had been built.
Range Rover Classic, station wagon, 5 seats, 4 doors, twin airbags, ABS

loa 4478mm, width 1813mm, height 1792mm, weight 2011kg (unladen), GVM 2720kg, towing 750kg onroad, 500kg off road (unbraked)

wheelbase 2540mm (100"), track 1486mm/1486mm, grnd clearance 206mm

approach 30°-33°, departure 30°-33°

turning radius 5.95m

3950cc, petrol, V8, Efi, 2valves/cyl, ohv

bore 94mm, stroke 71mm, c.r. 8.131:1

power 134kW at 4750rpm, torque 304Nm at 2600rpm

transmission 4-speed auto', hi/lo, full-time 4WD, Morse chain, centre diff' and viscous-coupling, traction-control

suspension beam-air/beam-air, brakes disc/disc (ABS), transmission hand-brake

tyres 205R16 on 16x7 wheels, fuel-tank 88.5L

$97,600 (Aus 1995)

Also LSE (long wheelbase, 108")

loa 4676mm, wheelbase 2743mm weight 2150kg
turning radius: 6.35m
$103,500 (Aus 1995)
Range Rover II (1994- )
1994: The new Range Rover (P38a) was released in the U.K., and in Australia in 1995; 1995 was the 25th anniversary of the first Range Rover.
The new body was bigger and more rounded but with many hints at the original shape. Underneath, the separate chassis had been redesigned for improved crash-worthiness, air-bag suspension became standard so the the rear A-frame was made redundant and rear axle location was pereformed by "composite" radius arms. The new car still had live axles, but the front ones now had "open" steering swivels.
The V8 petrol engine was offered it 4.0 and 4.6-litre (nominal) capacities, driving either Rover's R380 5-speed manual gearbox or a ZF 4-speed automatic gearbox. The ZF unit had lock-up abilities for starting on loose surfaces.
Range Rover 4.0 SE 1996, station-wagon, 5-seats, 4-doors, twin air-bags, 4-channel ABS

loa 4713mm, width 1889mm (2228mm mirrors), height 1817mm (standard), weight 2150kg (unladen)

GVM 2780kg, towing 750kg on-road, 500kg offroad (unbraked), with over-run brakes 3500kg on-road, 1000kg offroad

wheelbase 2745mm, track 1540mm/1530mm, grnd clearance 224mm

approach 28°-38° (spoiler removed), departure 19°-26°, ramp break over 160°-151°

turning radius 5.95m (kerb to kerb)

3950cc petrol V8 Efi 2v/cyl ohv

94mm x 71mm, c.r. 8.21:1, 132kW at 4750rpm, 304Nm at 3000rpm

transmission 4-speed auto' (or 5-speed manual U.K.), full-time 4WD, hi-ratio 1.216:1, lo-ratio 3.271:1, silent chain, centre diff' and viscous coupling, final drive 3.54:1, traction-control

suspension live-axles air/ live-axles air, height adjustable, brakes disc/disc (4 channel ABS), transmission hand-brake

tyres 235/70 R16 on 7"x16" alloy wheels, fuel-tank 100L

Anti-theft radio-casette and CD, 11 speaker system. Climate control a/c
Option - Connolly leather upholstery

rrp $99,500 ($au 1996)

Also, 4554cc petrol V8 Efi 2v/cyl ohv

94mm x 82mm, c.r. 8.35:1, 157kW at 4750rpm, 358Nm at 3000rpm

And, 2497cc turbo-charged, intercooled diesel (not .au) 6-cyl, ohv 2v/cyl ohv, by BMW

80mm x 82.8mm, c.r. 22.1:1, 100kW at 4400rpm, 270Nm at 2300rpm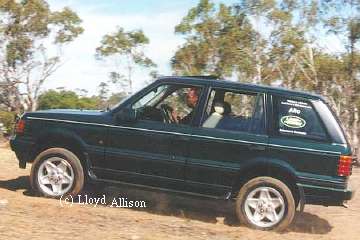 1998
2000 prices: Range Rover 4.0 S $79,950, Range Rover 4.6 HSE $119,950 ($au 2000).
2001 prices: 4.0 S V8 auto $85,937, 4.6 HSE V8 auto $115,940, 4.6 Vogue V8 auto' $130,991 ($au 3/2001). Rivals: BMW X5, Mercedes-Benz M-class.
2001 December: A total of 167,259 Range Rover IIs were built.
Range Rover III (2002-)
2001 September: Production began at Solihull.
2002 January: The Range Rover III (L322) premiered at the North American International Auto Show, Detroit, and also appeared at the Melbourne Motor Show, February 2002. On sale in Australia in June 2002. The third Range Rover was designed when LandRover was owned by BMW but released after Ford bought the company.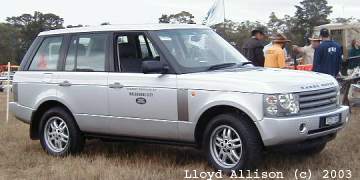 | | |
| --- | --- |
| It has a 5-speed automatic gearbox, 2-speed transfer case, full-time four-wheel drive, height-adjustable independent suspension front & rear with air-springs, and is powered by BMW's 4.4-litre petrol V8 4-valves/cyl' (210kW), or 3.0-litre turbo-diesel 6-cylinder (130kW) engines. | |
2002 Range Rover V8

Loa 4950mm, width 1956mm, height 1863mm, wheelbase 2880mm (113"), track 1629mm/ 1626mm, ground clearance 281mm (11") (@ offroad height), turning radius 5.8m,

weight 2440kg (unladen),
approach 35°, departure 29&deg, ramp-over 150° (@ offroad height)

Engine 4.4-litre V8 by BMW, 4-valves/cyl

power 210kW (280bhp) at 5400rpm, torque 440Nm at 3600rpm,

Transmission 5-speed automatic, 2-speed transfer case, chain drive, Torsen centre diff', traction control, hill descent control (HDC)

Suspension indep' MacPherson strut/ indep' wishbones, adjustable air suspension, brakes disc/ disc

Tyres 255/60R18 or 255/55R19, fuel tank 100L, fuel consumption 22.2L/100km (12.7mpg) - 12.6L/100km (22.4mpg)

Monocoque construction

Price HSE V8 $130K [$au, 7/2002]
2002, July 17: "The 500,000th Range Rover was produced at Land Rover's Solihull manufacturing plant, almost 32 years after the first model was built." [-LR]
2003: The Range Rover will lift a wheel about 5" earlier than a Defender LWB, but traction control usually keeps things moving.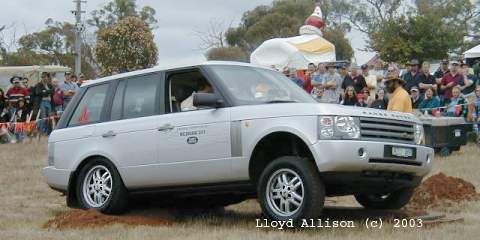 2003
2005: Petrol engines changed to Ford (Jaguar based) 4.2L V8s, naturally aspirated (225kW, 440Nm), and supercharged (291kW, 560Nm), with a ZF 6-speed automatic gearbox. The BMW diesel with 5-speed auto continues, for a time.
2007:

2700kg;
diesel option;
TDV8, V8, 3.6L, dohc, 32 valve, turbo, 11.3L/100km claimed;
power 200kW@4000rpm, torque 640Nm@2000rpm;
6-speed automatic;
au$166,000, 2007;
uk list price £49.5K-£64.5K (on road £57.5K-£74.9K), 2/2009.
2009, 2010 model year (10MY), on sale late 2009 in .au: previous 3.6-litre TDV8 engine continues, new 5.0-litre V8 petrol and supercharged petrol engines.
2010, July: A bigger 4.4-litre twin turbo TDV8 diesel, 230kW, 700Nm, (from 8/2010, 11MY), 8-speed auto (ZF), 9.4 l/100km (30mpg) claimed, 253 gm CO2/100km, £81.5K au$165K (7/2010). (3.6 TDV8 £66.7-77.9K, 7/2010.) (And 5-litre V8 supercharged petrol 'Autobiography', 18mpg average (actual), £82K+ (9/2010).)
2010, November 4: The one millionth Range Rover to be built since 1970 was doneated to the charity 'Help for Heroes'.
Range Rover IV
2012, September: The Range Rover IV (L405) made its debut at the Paris Motor Show. Engines are 5-litre V8 supercharged petrol, 3-litre TDV6, & 4.4 TDV8 turbo diesel. With an all aluminium body, at 2170kg+, it is claimed to be 420kg lighter than the ser. III, from £71.3K - £98K+. "deliveries scheduled to start from early 2013" -- LR

Ground clearance 245mm, approach 35°, departure 30%deg;,
3.0-litre TDV6, 190kW, 600Nm, 33.2mpg urban, 37.7mpg combined, claimed;
4.4-litre TDV8, 230kW, 700Nm;
5-litre supercharged petrol, 375kW, 625Nm.
8-speed auto, full-time 4WD, centre diff..
From au$169K+ to au$240K 'Autobiography' (11/2012).
2017 M.Y.: TDV6 Vogue £76.3K, to SV Autobiography from £133K. 2.0 I4, 3.0 V6 and 4.4 V8 turbo diesels, 3.0 V6 (uk) and 5.0 V8 supercharged petrol engines; from £60K to £97K.
Range Rover V
2021 October 26: The next Range Rover was unveiled at the Royal Opera House, London. Models included PHEVs with a claimed electric range of "up to" 100km. On sale from 2022 from £94.4K; an all electric RR to be available from 2024. — JLR.
2022: The (L460) Range Rover V was released in April 2022, standard (2,997mm) or long (3,197mm) wheelbase, petrol I6 auto, or mild- or plugin-hybrid (MHEV/ PHEV), or diesel I6 auto, or petrol V8 auto.