Discovery I (1989 - 1998)
1989 October: The Land Rover Discovery was released in the U.K. in October 1989 to fill the ever widening gap between the luxurious Range Rover and the utilitarian Land Rover 90 & 110 (later Defenders). Development started in 1986 and was very rapid by British standards, aided by the fact that the Discovery made use of the coil suspension, engines and full-time four wheel drive transmission of the Range Rover (Classic) of the day.
The early Discovery came as a two-door with the 3.5-litre V8 petrol engine, the LT77 5-speed gearbox and LT230 transfer case with centre differaential lock. Later a 1994cc multi-point injection (Mpi) petrol engine was offered in European markets. Normal seating is for five, with two optional folding, inwards-facing seats under the distinctive stepped roof at the rear.
1994: The V8 engine grew to 3.9-litres, and LandRover's 300-series 2.5L 4-cylinder diesel Tdi (turbo-charged, direct injection, intercooled) was offered as an alternative. The diesel has a maximum boost of 0.8 to 1.0 bar and can perform as something approximating a 5L naturally aspirated diesel at full boost. The R380 5-speed manual transmission or a 4-speed automatic could be had. A driver's air-bag was fitted and a passenger's air-bag became on option. Four-door Land Rover Discovery models were also introduced. (Rounding error increased the V8's capacity to a nominal 4-litres in 1995!)
1996: Bigger 235/70R16 tyres on alloy wheels became the default in 5-door Discoveries, in Australia at least. Other standard items include head-light washers, air conditioning, air bags and ABS brakes.
LandRover Discovery 1996: station-wagon, 5 seats +2 extra rear seats optional on 3-door & 5-door and std on ES, 3 or 5 doors, twin air-bags - optional on 3 door, standard on 5 door & ES

loa 4524mm, width 1793mm, height 1928mm [1968mm roof rails], weight 1865kg (unladen) (1900kg 5 door)

GVM 2720kg, towing 750kg on-road, 500kg off-road unbraked

wheelbase 2540mm (100"), track 1486mm/1486mm, grnd clearance 206mm

approach 40°, departure 32°, ramp break-over 151°

3950cc petrol V8 Efi 2v/cyl ohv

bore 94mm, stroke 71mm, c.r. 8.131
power 134kW at 4750rpm, torque 304Nm at 2600rpm

or 300 Tdi 2495cc turbo-charged direct-injection intercooled, max boost 0.8 - 1.0 bar,

bore 90mm, stroke 97mm, c.r. 19.51,
power 83kW at 4000rpm, torque 265Nm at 1800rpm

transmission 5m/4a, hi/lo, full-time 4WD, lockable centre diff'

suspension live-coil/live-coil, brakes disc/disc (ABS on 5-doors), transmission hand-brake

tyres 205R16, 16x7 wheels, (235/70 R16 on ES), fuel-tank 88.5L

prices $44,995 (Aus) (3dr) - $67,170 5-door ES Tdi auto' ($au 1996)
1997: $39,990 (`S') - $51,570 (`SE7') ($au 1997).
1998 September: The LandRover Discovery Series II, code name Tempest, had its press launch. The series II strongly resembles the series I, but is largely new, a little longer and a little wider, with self-levelling rear airbag suspension (4×coils on the base model), traction control said to remove the need to use diff'-locks, and hill descent control. The optional Active Cornering Enhancement (ACE) system uses accelerometers to sense cornering forces and controls hydraulic rams on the anti-roll bars to resist roll.
The longer rear body allows the optional third row of seats to face forwards instead of sideways - important for the 4WD school run.
Engine options are the V8 4.0 litre petrol 132kW (180hp) and a new `Td5' 2.5 litre five-cylinder turbo-charged and intercooled diesel 101kW (135hp). The new Discovery was at the Melbourne Motor Show, March 1999.
The LT230Q transfer case has been quietened (hence the Q). It does contain a diff' lock but this can only be engaged in emergency by crawling under the vehicle with a spanner - the Discovery II relies on the traction control system instead.
LandRover Discovery II 1999, station wagon, 5 seats (+2 option), 4 doors, ABS, twin SRS airbags

loa 4630mm, width 1885mm, height 1935mm (with roof rails)

wheelbase 2540mm (100"), track 1540mm/1560mm

approach 31°, departure 21° (25° with rear air susp')

turning radius 5.95m

weight 2065kg - 2225kg (unladen), GVM 2750kg - 2880kg, towing 750kg (unbraked), 3500kg (braked)

petrol

4L nominal, petrol, V8, mpfi, 2-valves/cyl, ohv
power 134kW at 4750rpm, torque 320Nm at 2600rpm

diesel

Td5, 2.5L diesel, 5-cyls, common-rail, direct injection, turbo-charged, intercooled, 2-valves/cyl, sohc
power 101kW at 4200rpm, torque 300Nm at 1950rpm

transmission R380 5-speed manual/ ZF ZF4HP22EH 4-speed auto'; LT230Q transfer case, full-time 4WD

suspension front live-axle & coils/ rear live-axle Watts-link & coils (base) or air (ES), active cornering enhancement (ACE) option
brakes disc/disc, ABS, ETC, transmission hand-brake

tyres std 235 on 16x7J alloy wheels, option 255 on 16x8J alloy wheels, option 255 on 18x8J alloy wheels, fuel-tank 95L

standard air conditioning, 4-spkr radio/ cassette, electric windows and mirrors

prices $44,900 to $65,729 ($au 2/1999)

base V8 man' $44,900, diesel +$1,500, auto' +$2,600, ACE +$4,000, +2 seats +$3,000, 18" wheels +$2,600
ES V8 auto' $64,000, diesel +$1,729, 18" wheels +$2,998, (auto', ACE, +2 seats standard)

Rivals GM Holden Jackaroo, Jeep Cherokee, Mitsubishi Pajero, Toyota Prado.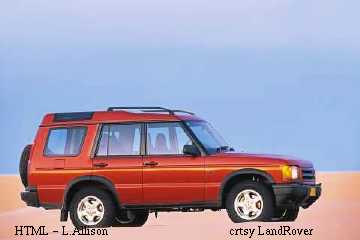 2001
2001 March: V8 manual $45,463, auto' +$2.5K, self-levelling +$1.4K, ACE +$3.76K. V8 auto 7-seat $51,193, ACE + $4K. ES V8 auto $65,935 & ES Td5 auto $67,664 (self levelling and ACE standard) ($au 3/2001).
2002 model year: The transfer-case centre diff' lock was deleted - so it cannot be locked not even with a spanner in an emergency if (when) the electronic traction control has gone bye-bye.
2002 March: A face-lifted Discovery was shown at the New York motor show. The revisions included Range Rover SIII -style head-lights and a real, lockable, centre diff' lock.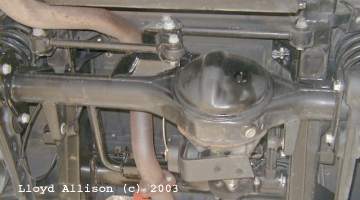 2003
: Rear Watts linkage
2004 May: Td5 Manual $52,490, V8 Automatic $52,490, Td5 Automatic $54,990, S V8 Automatic $55,990, S Td5 Automatic $58,490 ($au).
April 2004: The Land Rover Discovery series 3 had its debut at the New York International Auto Show.
4.4-litre Ford/Jaguar origin petrol V8 (224kW) or 2.7-litre turbo diesel V6 (142kW, 440Nm), 6-speed automatic gearbox, full-time 4WD, independent electronic air suspension, five or seven seats. On sale in "the Australian market in Q4 2004."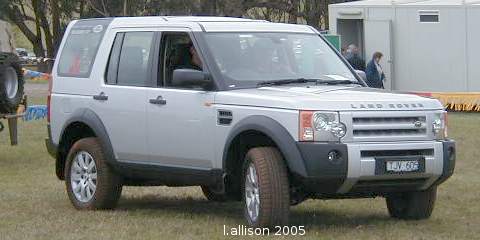 2/2005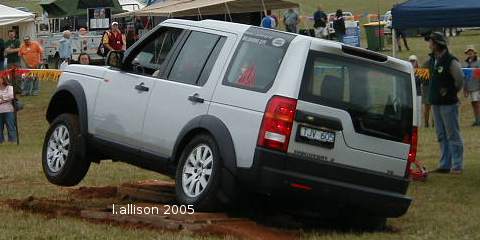 LandRover Discovery III, June 2005, station wagon, 7 seats, 4 doors, ABS; driver, pass. & side airbags; warranty 3y / 100,000km,

loa 4835mm, w 2190mm (mirrors), h 1837mm, wheelbase 2885mm (113.6"), ground clearance 185mm-240mm,

turning radius 5.9m,

GVM 3230kg, weight 2430kg, towing 750kg unbraked, 3500kg braked,

approach 32°-27°, departure 27°-30°, ramp-over 157°-152°,

DTV6 HSE,

turbo-charged intercooled V6 diesel, 2720cc, 140kW @ 4000rpm, 440Nm @ 1900rpm,
6-speed auto, full-time 4WD, dual-range,
tyres 255/60 R18, full-size spare; brakes disc/disc, ABS; fuel tank 82L,
fuel cons. 13.5L/100km (9.3-14.2),
price $83,650 + $6740 orc,

price range $64,650-$83,650 ($au) 6/2005.

SE V6 ($au) $65,700, 7/2007.

SE 2.7d $75K, 4.0p $64K ($au) 12/2007.

SE V6 $66.5K, S TDV6 $67.6K, SE TDV6 $76K, HSE TDV6 $86.6K, HSE V8 $93K ($au) 12/2008;

uk list price £25K-£38K (on road £29.3K-£44.4K) 2/2009.
2009, on sale Sept. 2009 in .uk, late 2009 in .au, Discovery 4, a revision: (exisiting) 2.7 litre TDV6 diesel engine, and new 3.0 litre twin turbo diesel TDV6 9.3 l/100km (244gm CO2/km), and 5.0 litre V8 petrol engines; 6-speed adaptive transmission. 3.0 TDV6 from £32K (9/2009).
Discovery 4 XS from £41,395 (LR, 1/2010), from au$68.5K+orc (12/2010).
2011, September, .au: Discoverey 4s were being advertised from au$75K, drive away. SDV6 SE 3.0-litre V6 au$82K (11/2011).
2012, February 29: Jaguar Land Rover "celebrat[ed] the one millionth Land Rover Discovery manufactured at ... Solihull [by] setting off on an expedition ... to Beijing" -- JLR.