1979: The LandRover stage-1 is so-called because it was the result of stage-1 of a major investment plan at LandRover which eventually led to the 90 - 110, later `Defender' range.
The stage-1 is a Series III leaf-sprung 109" LandRover with the 3.5-litre petrol V8 and 4-speed full-time 4WD transmission out of the early Range Rover and 101.
1981: An Isuzu 4BD1 3.9-litre 4-cylinder diesel engine was a factory fitted option in Australia.
The series III chassis was modified by moving the grille, radiator and first cross-member forward, deleting cross-member number two, making the cross-member under the gearbox removable, and cuting away the cross-member behind the transmission to clear the prop. shaft.
Axles are standard series III but with 3.54:1 differentials and with Range Rover style constant velocity joints in the steering swivels, on account of the constant four wheel drive.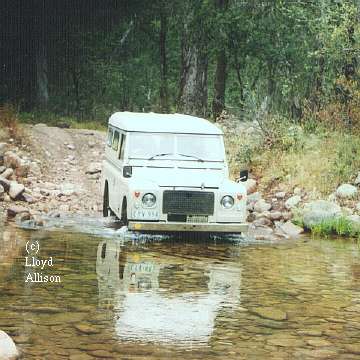 1981
LandRover Stage-1 1981, LWB station wagon, 10 seats, 5 doors

Loa 4580mm, width 1680mm, height 2000mm

Wheelbase 2770mm (109"), track 1330mm/1330mm, turning radius 7.15m, ground clearance 209mm (diff')

Weight 1809kg (unladen), GVM 2710kg, towing 500kg (unbraked)

Engine 3528cc, petrol, V8, twin Zenith Stromberg CDSE carb's, 2-valves/cyl, ohv

Bore 88.9mm, stroke 71.12mm, c.r. 8.13:1
Power 69kW (92bhp) at 3500rpm, torque 230Nm at 2000rpm

Transmission LT95, 4m, full-time 4WD, centre diff' and lock
ratios 1st 4.069:1, 2nd 2.448:1, 3rd 1.505:1, 4th 1:1 (rev 3.664:1), transfer-case hi 1.336:1, lo 3.321:1,
diff's 3.54:1 Rover / Salisbury 8HA

Suspension live-axle & leaf/ live-axle & leaf, brakes drum/drum

Tyres 7.50x16, fuel-tank 68L (15 gal imperial)

NB. Available as ute, cab/chassis, hard-top and station-wagon

1983: 110 and ('84) 90.