1914, December 1: The Society Anonima Officine Alfieri Maserati, Bologna, created by the Maserati brothers.
1926, April 14: The first true Maserati, the Tipo 26 (below), was built; it won its class in the Targa Florio.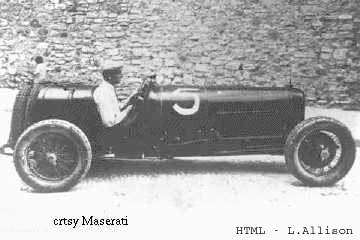 1929: Baconin Borzacchini in a Maserati V4 powered by a 3961cc 16-cylinder engine of 280hp raised the 10km speed record to 246.069km/h.
1930: The V4 won the Tripoli Grand Prix.
1931: A Grand Tourer with a Castagna body was shown at the Milan Motor Show.
1933: The Maserati 8C/8CM featured hydraulic brakes.
1934: Giuseppe Furmanik, in a Maserati, set a 1100cc speed record of 222km/h.
1938: Adolfo Orsi bought the company.
1939: The firm moved to Viale Ciro Menotti, Modena.
1939 and 1940: Wilbur Shaw in a Maserati 8CTF won the Indianapolis 500.
1947: The Tipo A6 road-going sports car was created, with a straight-6 1488cc engine. A new rival, Ferrari, challenged Maserati on the race track.
1953: Juan Manual Fangio in a Maserati A6GCM 2000 was runner up to Alberto Ascari in a Ferrari, in the World Drivers' Championship.
1954: The Maserati 250F Grand Prix car was launched. It had a 2.5-litre 6-cylinder engine and a transverse rear gearbox. Fangio won the Argentine Grand Prix, but switched to Mercedes during the season.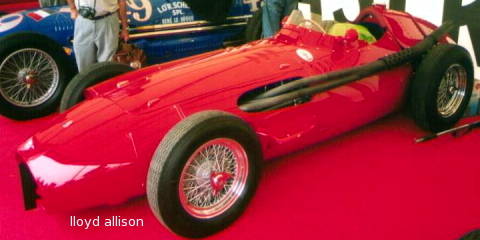 1956 250F
1957: Fangio won the World Championship in a 250F. The firm also won the constructors' title; it then withdrew from motor racing.
1957 - 1964: Production of the 3500GT 2+2 sports coupe - 3486cc straight-6.
1961: The 3500GT got disc brakes and fuel injection.
1962: Sebring coupe based on the 3500GT.
1963: Production of the Mistral, and the Quattroporte.
1966: A Maserati 3-litre V12 powered John Surtees's Cooper-Maserati F1 car.
1968: Citroen took a major stake in the company.
1971: The Bora, a mid-engined, 4.7 litre (later 4.9) V8 grand tourer launched at Geneva.

1974 Merak, 3 litre V6 (1972-1983)
1975: Alejandro De Tomaso's GEPI bought Maserati.
1976: New Quattroporte launched.
1981: The BiTurbo 2-litre V6 was launched - the closest thing ever to a "mass market" Maserati.
1993: Fiat bought Maserati.
1997, July: Fiat put Maserati under Ferrari control.
2001: 75th anniversary of the Tipo 26.
(Thanks to Maranello Imports Pty. Ltd.)
2005: "Ownership of Maserati was transferred from Ferrari to Fiat ... commercial synergies with Alfa Romeo" -- [M].