1992: The first Oka four wheel drive mark-1 was built in Western Australia (WA).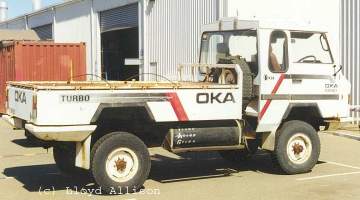 1995: The Oka design was revised and the cab made more stylish and comfortable.
The Oka has a 4-litre Perkins diesel engine, Dana Spicer manual gearbox, Rockwell transfer case, and Dana axles. Front and rear suspension uses live axles and leaf springs. Ventilated disc brakes are fitted all round. GVM is 5.5 tons , so a truck licence is needed to drive an Oka -L. A11ison
In the late 90s, Oka Motor Co. moved its administrative offices to its Bibra Lakes (WA) factory.
1998: A crew-cab Oka 4WD.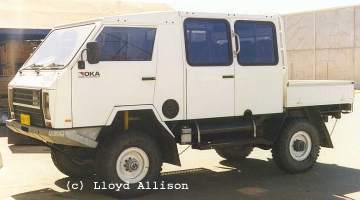 1998 Oka 4WD

4WD truck, various bodies, 2 seats or more

Loa 5327mm (cab chassis), width 2000mm (cab), height 2470mm (cab)

Wheelbase 3045mm, track 1658mm/1605mm, grnd clearance 236mm

Approach 41°, departure 35°, ramp break over 145°

Turning radius 7.25m

Weight 3049kg (cab chassis), GVM 5500kg, towing to 7000kg GCM

Perkins Phaser 110MT, 3.99-litre, diesel, 4-cyls, turbo-charged, 2-valves/cyl, ohv

Bore 100mm, stroke 127mm, c.r. 16:1
Power 81kW at 2800rpm, torque 354Nm at 1600rpm

Transmission Dana Spicer T5-290 (T5X-2276) 5-speed manual (5.36:1, 2.62:1, 1.51:1, 1.0:1, 0.79:1, rev 4.73:1); Rockwell T223 2-speed transfer case part-time 4WD (lo 2.05:1, hi 1.0:1)

Front axle Dana Spicer 60F 4.88:1 2400kg, rear axle Dana Spicer 70 4.88:1 3100kg

Suspension live-axle & leaf/ live-axle & leaf, brakes disc/disc (325mm/325mm), hand-brake mounted on transfer case

Tyres 8.25R16 or 9.00R16, fuel-tank 2×105L