As well as making sensible cars, Peugeot also make the Peugeot P4 4×4 for the French Army. These two are helping to guard Sante Chapelle in Paris. If you notice a resemblance to the Mercedes Benz G-wagen, it is not surprising because it is indeed a version of that vehicle derived in the 1980, although fitted with a Peugeot engine.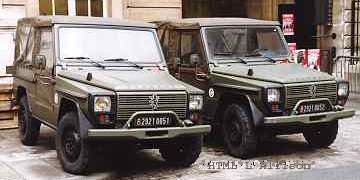 1997
c1997 Peugeot P4, soft top, 2 seats;
loa 4145mm, width 1705mm, height 1990mm, wheelbase 2400mm, approach 45°, departure 45°;
transmission 4m, part-time four wheel drive, 2-speed transfer case;
suspension live-coil/live-coil, brakes disc/drum;
tyres 7.00R16.