The track racing fraternity has dabbled with four wheel drive from time to time but it is currently banned from Formula-One (F1) Grand Prix and from Indy Car style racing. Of course four wheel drive is extensively used in rally cars, a trend begun by Audi.
1902: The Dutch firm Spyker built a racing car with full-time four wheel drive and a 6-cylinder engine! It won a hill-climb held by the Birmingham motor club in 1906.
1932: Harry Miller raced a 5L V8 4WD at Indianapolis.
1932: Bugatti built two type 53 4.9L 4WD hill climb cars, said to have been inspired by a front-wheel drive Miller and also in response to the difficulty of getting 300hp onto the road through the skinny tyres of the era. Three T53s were made - one is at the Schlumpf collection, one is in private hands and the fate of the 3rd is unknown. The cars achieved some success in hill-climbs, particularly in the wet.
Bugatti T53: wheelbase 2.6m, track 1.25m, front susp.: 2 x indep. transverse leaf springs, rear susp.: live axle, leaf springs, 8-cyl, 2-valves/cyl, dohc, 300bhp, 4972cc, bore 86mm, stroke 107mm, super-charged, 4-speed manual tranmission, four wheel drive, 3 diffs.
The steering swivels used plain Hookes joints (universal joints) not c.v. joints and these inevitably produced unpleasant feed-back in the steering, leading to severe driver fatigue in long events. The front suspension used leaf springs as the top and lower suspension members and was perhaps insufficiently controlled as a result.
1934: Miller V8 4WD at Tripoli and Avus GP [Motor 1969].
During the 1930s, Auto-Union and Mercedes-Benz indulged in a classic struggle with racing cars that had 8-cylinder, V12 and V16 supercharged engines of up to 6-litres and finally developed well over 500hp before capacities were restricted to 3-litres super-charged (or 4.5L unblown) in 1938. Despite having skinny tyres and enormous power, these cars were two wheel drive.
After WWII, Formula-One racing commenced with engine limits of 4.5-litres naturally aspirated or 1.5-litres super-charged. In 1948 Porsche built a (mid-) rear-engined car with a 283kW supercharged 1.5-litre flat 12-cylinder engine and four wheel drive, the type 360 Cisitalia, for Piero Dusio. The driver could select two wheel drive, e.g., for cornering, and four wheel drive for maximum grip on acceleration. The BRM 1.5-litre V16 (4x2) rates as one of the most magnificent failures from the post-war period.
1954: Engine limits were reduced to 2.5-litres unboosted or 750cc super-charged; no one seems to have taken up the 750cc option. Mercedes-Benz returned seriously to F1 Grand Prix racing with the W196 (4x2) and dominated 1954 and 1955. There were plans for a 4WD version of the W196 but this did not eventuate. Mercedes-Benz achieved two world championships to Fangio, before withdrawing from F1 racing.
1961: The engine capacity for Formula-One cars was reduced from 2.5 to 1.5-litres. Ferguson Research devised the Formula Ferguson (FF) four wheel drive system. Jack Fairman drove the 4WD Ferguson Project 99 (P99) F1 car in the British Grand Prix at Aintree. Later, Stirling Moss won the Oulton Park Gold Cup race in it; there was rain during the race but Moss's practice time was second fastest - 1m44.8s v. 1m44.6s by Bruce McLaren in a Cooper - so the P99 was no dry-weather slouch. This innovative car has a front mounted Coventry Climax 4-cylinder engine, Ferguson Four Wheel Drive System and Dunlop Maxaret ABS brakes. Moss nominated the P99 as his favourite Formula-One car in the September 1997 issue of MotorSport and he knew a few cars. The P99 is now at the Donington Museum.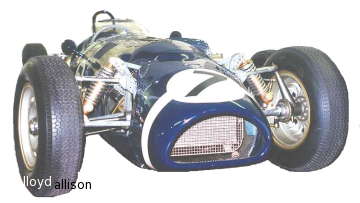 The project's beginnings were with Fred Dixon and Tony Rolt who were inspired by the racing possibilities of 4WD before WWII. After the war they teamed up with Harry Ferguson (of the tractors). Ferguson Research worked on many, perhaps too many, innovative ideas, trying to interest the major manufacturers in using 4WD in high volume production cars. Claude Hill devised a centre differential arrangement with automatic locking to limit the speed differences allowed between front and rear axles in the case of wheel slip. The idea of a racing car, the P99, was taken up in 1960 for 1961 as a high speed test-bed and demonstrator of the system's advantages. BRM built a rear-engined 4WD FF-based car for F1 in 1964, and there was more F1 interest by 1969, but American Indianapolis-style racers were more quickly receptive. The Ferguson 4WD system was also used in the Jensen FF 4WD road car (1966).
Formula-One later changed from 1.5-litre engines to 3-litre engines and one would have thought that four wheel drive would have become even more relevant, what with the increased power and relatively primitive tyre technology, but it was not tried again until 1969.
1964: Bobby Unser drove Andy Granatelli's STP-Oil Novi V8 with four wheel drive at Indianapolis, but the car was damaged in an accident. In 1965 it retired with mechanical problems.
1967: Granatelli's STP-Paxton 4WD Pratt and Whitney gas-turbine car ran well at Indianapolis, leading the race until retiring with mechanical problems. The design had the gas-turbine sitting along-side the driver.
1968: Lotus worked with Granatelli to build the wedge-shaped Lotus 56, powered by a rear-mounted Pratt and Whitney gas-turbine and with four wheel drive; four were entered at Indianapolis. Mike Spence was killed in one during practice. Lotus 56s qualified 1st, 2nd and 11th: Joe Leonard at 171.56mph, Graham Hill at 171.21mph and Art Pollard at 166.3mph; remember that this was in the days before "wings" and ground-effect. Graham Hill crashed during the race due to suspension failure and the other two cars failed to finish, Leonard having run consistently in the top 3, and holding the lead when the fuel pump failed on lap 192. A 4WD Lola also took part in 1968, driven by Al Unser.
1969: The air-inlet cross sectional area for gas-turbines was restricted in 1969 but the Lotus 56s returned to Indianapolis. A crash in practice revealed a manufacturing flaw in the hub carriers and the cars were withdrawn before the race. Four wheel drive and gas-turbines were banned after 1969.
1969 brought a brief flowering of four wheel drive to the 3-litre era of Formula One (F1). Lotus, Matra and McLaren tried 4WDs, and Cosworth, the engine maker, also built one of their own. The 4WDs did not perform well, but they were brand new and barely developed, while teams concentrated on the main-chance 4x2s. The drivers also objected to the heavy handling, or was it just "different"? Some thought that there could not be a 4WD success unless a team and its drivers wholeheartedly committed themselves to the system - a similar phenomenon later occurred in the F1 turbo-car era. (4WD however was later banned from F1.)
1969 June 21: The Dutch Grand-Prix at Zandvoort saw Matra and Lotus bring 4WDs to practice - the Matra MS84 and the Lotus 63. At this time all cars were powered by the 3-litre Ford Cosworth V8, except for a lone Ferrari V12 for Chris Amon and uncompetitive BRM V12s for John Surtees and Jackie Oliver. The drivers put most effort into their 4x2 cars - Jackie Stewart in has Matra MS80, Graham Hill and Jochen Rindt in their Lotus 49Bs. Hill did achieve a 4WD practice-lap time within 3.8 seconds of his best 4x2 time and Stewart one within 2.4 seconds of his best 4x2 time (1:21.5). Neither 4WD car started the race. Stewart won (MS80).
The Lotus 63 drew on Lotus's experience with the type 56 Indianapolis gas-turbine cars although powered by the 3-litre V8 Cosworth engine. Because of this latter fact it had a water radiator, mounted in the nose as was the custom of the day, although the car was very low and the nose long and rather wedge shaped. The rear-mounted engine was turned around with the gearbox behind and beneath the driver's back. Drive was taken fore and aft by shafts on the left hand side of the car. The driver was positioned quite far forward with his ankles beneath the front "axle".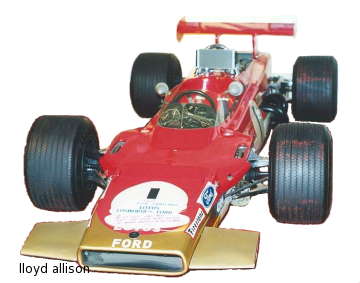 The ventilated disc brakes were inboard, which reduced unsprung weight and made more room for the steering, hub, and c.v. joints out at the wheels. Inboard brakes were inherited by the later Lotus 72, despite that being 4x2. The Lotus 72 also brought side-mounted radiators to F1; Colin Chapman was a very innovative designer.

The Matra MS84 was less radical in appearance than the Lotus 63, resembling the 4x2 MS80. It also used the Cosworth engine turned around but with the drive shafts on the right hand side of the body.

Some controversy surrounded "aerodynamic devices" on the F1 cars at Zandvoort. Aerofoils, or were they "spoilers" sprouted on noses and tails and there was much stretching and bending of, and grumbling about, the rules in this regard.

1969 July 6: The French Grand-Prix, Clermont-Ferrand. Jackie Stewart concentrated on practice in the 4x2 Matra MS80 (3:00.6), and was 6 seconds slower in a session in the 4WD MS84. A new driver, John Miles, drove the 4WD Lotus 63, recording 3:12.8 in practice and starting the race, 12th out of 13 on the grid. The car retired after one lap. Stewart won (MS80).

1969 July 19: The British Grand-Prix, Silverstone saw McLaren join Matra and Lotus in the 4WD club, trying the 4WD McLaren M9A, although only as an aside to the 4x2 M7As. The last 4 out of 17 places of the starting grid were filled with 4WDs: Derek Bell (McLaren M9A), John Miles (Lotus 63), Jean-Pierre Beltoise (Matra MS84) and Jo Bonnier (Lotus 63). Beltoise finished 9th, and Miles 10th, out of 10 finishers, respectively 6 and 9 laps behind the winner (Stewart, MS80) [MotorSport].

In due course, four wheel drive was banned from Formula-One Grand Prix racing. It is interesting to speculate if it would have been adopted, if allowed, or if the aerodynamic devices, which subsequently became highly developed, simply gave sufficient traction for 4x2s?

The 2009 F1 regulations allowed for a (limited) Kinetic Energy Recovery System (KERS) to be used to recover braking energy and to reuse it for acceleration. Strangely, given that much of the braking is done through the front wheels, four wheel drive was not allowed.

-- Lloyd Allison