2000: The BMW X5 4x4 was developed during BMW's ownership of LandRover and was intended to complement the Range Rover rather than compete with it head on. Since then, Ford bought LandRover from BMW (2000).
BMW X5, 2000, station wagon, 5-seats, 4-doors, multiple airbags

Loa 4667mm, width 1872mm, height 1707mm

Wheelbase 2820mm, grnd clearance 182mm, turning radius 6.2m

Weight 2225kg (empty)

V8 4.4-litre, petrol, premium unleaded

Power 210kW at 5400rpm, torque 440Nm at 3600rpm

6-cylinder 3-litre, petrol

5-speed automatic gearbox, full-time 4WD, no low-ratio, traction control, hill descent control (HDC)

Suspension independent/ independent, brakes disc/ disc, electronic stability program (ESP)

Tyres 255/55x18 18" wheels, or 17" wheels plus snow chains, fuel-tank 93L

Prices V8 from $107,850 (11/2000, 6/2002), 3.0 6-cylinder from $79,750 (3/2001), $82,350 (11/2001) ($au)

Rivals: LandRover Range Rover, Mercedes-Benz M-class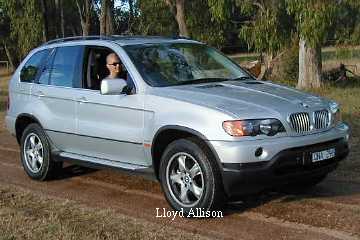 X5, 2001
The BMW X5 is a light-duty four wheel drive with monocoque construction, 4× independent suspension, full-time 4×4 with traction-control rather than diff' locks, and no low-range transfer gears.
2003 September, Frankfurt Motor Show: The small BMW X3 4×4 was set for release ~9/2003 -- modest ground clearance, full-time 4WD, no low-ratio, 6-cylinder engines of up to 3-litres.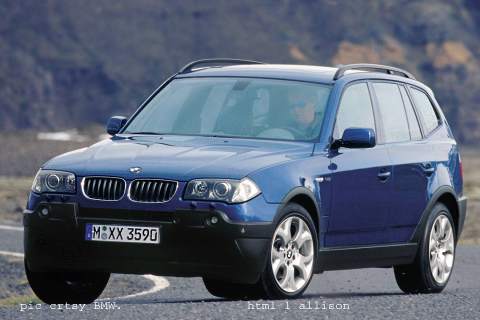 X3, 8/2003
2003 BMW X3, loa 4565mm, X3 3.0i (170kW), X3 3.0d (150kW) diesel, X3 2.5i (141kW), xDrive all-wheel-drive system (multiple-plate clutch, both X3 and X5).
2004 X5: The 4WD system is now by an "electronic clutch", i.e. rear-drive with the clutch automatically electing to send power to the front wheels when necessary.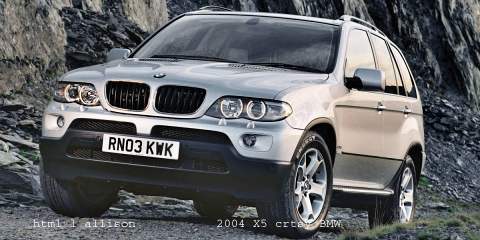 X5, 1/2004
2004 BMW X5 4×4, ABS, HDC, multiple airbags

Engine 4.4i V8 petrol, 4398cc

power 235kW at 6100rpm, torque 440Nm at 3700rpm,

(also 4.8-litre V8 (4.8is)

Engine 3.0i straight-6 petrol

power 170kW at 5900rpm, torque 300Nm at 3500rpm,

Engine 3.0-litre straight-6 turbo diesel

power 150kW at 4000rpm, torque 480Nm at 2000rpm,

Transmission 6-speed manual (6-cyls), 6-speed auto (V8), "xDrive" -- rear-drive, front-drive by `electronically activated, multi-plate clutch' (no low-ratio),

Suspension indep/ indep, brakes disc/ disc,

Tyres 235/65 R17 -- 255/55 R18.

prices X5 3.0 diesel $86.8K, petrol $85K ($au) --12/2007.
2009 January: "Over 845,000 customers have taken delivery of the BMW X5 [since 1999], including close to 23,000 Australian customers." --BMW.

X5s, 1/2009
2010, April: The BMW X1, the baby X, first went on sale in .au.

X1 xDrive23d,

1995cc 4-cyl diesel turbo, common rail direct fuel injection, power 150kW@4400rpm, torque 400Nm @ 2000-2250rpm,
fuel consumption (EU comb cycle) 6.3l/100km 167 gm CO2/km (EU standard)

X1 xDrive20d,

1995cc 4-cyl diesel turbo, common rail direct fuel injection, 130kW@4000rpm, 350Nm @ 1750-3000rpm,
fuel consumption (EU comb cycle) 5.8l/100km, 153 gm CO2/km

Also

X1 sDrive18i, petrol 110kW 4-cyl, rear-drive only, and
X1 xDrive25i, petrol 160kW straight 6-cyl, all-wheel drive,

from June 2010.
2010: An update for the BMW 'X5' range of 4x4s:

X5 xDrive 30d: 3-litre I6 turbo diesel, au$92K+costs.
X5 xDrive 35i: 3-litre I6 turbo petrol, au$104K+;
X5 xDrive 40d Sport: 3-litre I6 twin-turbo diesel, au$113K+;
X5 xDrive 50i Sport: 4.4-litre V8 twin-turbo petrol, au$133K+ [7/2010].
Normally, "xDrive [4x4] distributes drive forces to the front and rear axles in a 40:60 split."
2010 October: A revised BWM 'X3' appeared at the Paris Motor Show: 'X3 xDrive20d', 4-cyl diesel (135kW), 6-speed manual (8-auto optional), 5.6 l/100km claimed; 'X3 xDrive35i', I-6 petrol (225kW), eight-speed automatic transmission standard.
2013 April: A prototype 2014 BMW 'X4' SUV was unveiled prior to its Shanghai Motor Show debut; it resembled a smaller X6.
2013, November: The series 3 BMW 'X5' went on sale (£43K - £64K). A 4-cyl. diesel and 4x2 were new options.