1996 January: The Mercedes Benz All Activity Vehicle (AAV), i.e., prototype M-class 4×4, was unveiled to the world at the Detroit Motor Show. It had a separate chassis, 2-speed transfer case, and 4× independent suspension.
1997: The design had been finalised - Mercedes Benz alloy V8 and 3.2L V6 engines, 5-speed automatic gearbox, 2-speed transfer case with full-time four wheel drive through a centre differential, with a high-ratio of 1:1 and a low-ratio of 2.64:1. A chain takes drive from the centre differential to the front propeller shaft. There is no diff' lock on the centre diff, the M-class instead relying on electronic traction control to apply the brakes on any spinning wheel(s).
Safety features include dual air bags, dual front-door side-airbags, four wheel disc brakes, and ABS brakes.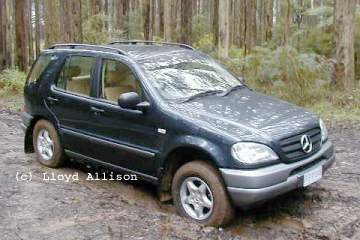 1999 ML320
1998 Mercedes Benz ML320 station wagon, 5+2 seats, 4 doors, airbags, ABS

Loa 4587mm, width 2190mm, height 1776mm, ground clearance 204mm

Wheelbase 2820mm, track 1535mm/1535mm

Approach 30°, departure 31°, ramp-over 160°

Weight 2010kg (unladen), GVM 2650kg, towing 750kg unbraked

3199cc, petrol, V6, efi, 3-valves/cyl, ohc, lean-burn with dual spark plugs

Bore 89.9mm, stroke 84.0mm, c.r. 10.0:1
Power 160kW at 5000rpm, torque 310Nm at 3000rpm

Transmission 5-speed automatic (3.93:1, 2.41:1, 1.49:1, 1.0:1, 0.83:1, rev 3.1:1); 2-speed transfer case (1.0:1 hi, 2.64:1 lo), full-time 4WD, no diff' locks rather ETC; diff' ratio 3.69:1

Suspension twin-wishbone & torsion-bar/ twin-wishbone & coil; brakes disc/disc

Tyres 255/65R16 on 8Jx16, standard spare 155/90 D18 on 4Jx18H2, fuel-tank 72L

Notes built on full chassis, front and rear suspensions are mounted on sub-frames

Prices $67,400 std, $73,400 luxury ($au 9/1998)
1999 ML430

4266cc, petrol, V8, mpi, 3-valves/cyl, sohc (per bank)

Bore 89.9mm, stroke 84.0mm, c.r. 10.0:1
Power 200kW at 5750rpm, torque 390Nm at 4500rpm

Transmission 5-speed automatic (3.59:1, 2.19:1, 1.41:1, 1.0:1, 0.83:1; rev 1.93;1), full-time 4WD (hi 1.0:1, lo 2.64:1), diff' ratio 3.46:1, centre diff', traction control

Tyres 275/55R17 (29" oad) on 8.5Jx17 wheels, fuel-tank 70L

Prices $98.5K (1989), $95,500 ($au 1/2001)

Rivals BMW X5, Range Rover
2000 February: The diesel ML270 CDI, 2688cc 5-cylinder turbo-charged, 120kW, 400Nm, was relased in Australia. Various improvements were made, such as fitting 3× lap-sash seat belts in the rear.
2000 ML270 CDI

CDI, diesel, turbo-charged, inter-cooled, common rail injection, 4-valves/cyl

Power 120kW, torque 400Nm

Bore 88mm, stroke 88.34mm

Transmission 5-speed auto (au), full-time 4WD, 2-speed transfer case

Brake assist, electronic stability program, side air-bags for front seats

prices ML270 CDI diesel $60,880, ML320 V6 petrol $65,880, ML430 V8 petrol $94,480 (7/2000 inc' GST)
2000 November: The M-class' Electronic Traction System (4ETS) was upgraded. An "intelligent brake force booster" builds pressure faster and reacts more quickly to wheel spin. It also acts in low range if brake and accelerator are both depressed to assist in starts on very steep hills. 4ETS can now also be used to descend steep hills at a constant speed in low-range, in the style of Land Rover's hill descent control (HDC).
2001 January: The M-class ML55 AMG, 5.5- litre 255kW V8, went on sale in Austrakia $139,900 ($au).
2001 ML55 AMG

Loa 4635mm, width 2190mm (mirrors), height 1760mm, wheelbase 2820mm, track 1555mm/ 1555mm, turning radius 5.95m, weight 2160kg, GVM 2750kg

Engine 5439cc, petrol, V8,

Bore 97.0mm, stroke 92.0mm, c.r. 10.5:1, 3-valves/cyl,
Power 255kW at 5500rpm, torque 510Nm at 2800rpm to 4500rpm,

Transmission 5-speed automatic gearbox, dual range transfer case, full-time 4WD, traction control, electronic stability programme (ESP)

Suspension all independent (coils), brakes disc/ disc, ABS

Tyres 285/50R18, fuel tank 93L, fuel consumption 14.9L/100km claimed overall

Standard multiple airbags inc' side airbags, comand, xenon headlights, power adjustable front seats, leather seats and trim, sunroof,

Price ML55 AMG $139,900, and ML430 V8 $95,500, ML320 V6 $67,900, ML270 CDI $64,900 ($au 1/2001)
2001 late, 2002 model year: The 4.3-litre ML430 was replaced by the 5-litre ML500 (215kW 5600rpm, 440Nm 2700rpm).
Price ML500 au$99.900 [$au., 2002].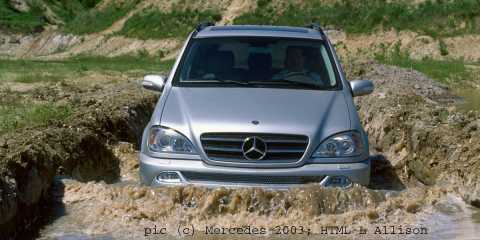 ML500, 2003
2004 January:

ML350, V6, petrol, 172kW, from au$$73,900.
ML270 CDI, diesel, 120kW from au$$73,900.
ML500, V8, petrol, 215kW, from $104,500.
ML55 AMG, V8, petrol, 255kW, from $140,900.

"11,585 M-Class have been delivered [...] in [.au] since the vehicle's release in 1998."
2005: A new (generation 2) M-class ('W164') was released with full monocoque construction, 7-speed auto (only), and a low-range transfer-case as an option.
By 2011 a 2.1-litre 4-cyl dual turbo diesel was an option -- in the ML250 CDI -- claiming 6.0 l/100km.
2012 MY: M-class (generation 3, 'W166'), ML250 2.1-litre 4-cyl turbo diesel, 150kW, 500Nm, from $81.4K, ML350 3-litre V6 turbo diesel, 190kW, 540Nm, from $100K, or 3.5-litre V6 petrol, 225kW, 370Nm, from $100K, ML500 4.6-litre V8 turbo petrol, 300kW, 600Nm, from $120K, ML63 AMG (June) 5.5-litre V8 turbo petrol, 385kW, 700Nm, from $178K ($au).
2015: As part of the introduction new terminology, the M-class was renamed the 'GLE-class', the 'G' being for gelandewagen (off road, as in the G-wagen).