1885 autumn: Karl Benz (1844-1929) built a three-wheeled, petrol-powered vehicle, arguably the first "automobile".

Loa 2700mm, width 1190mm, height 1450mm, wheelbase 1450mm

Water-cooled, single-cylinder, four-stroke engine, with a large flywheel mounted horizontally at the rear

954cc, Bore 90mm, stroke 150mm, c.r. 2.7:1
Inlet slide & vertical outlet valve, Benz surface carburetor, high-voltage electric buzzer ignition
Power 0.75hp at 400rpm, speed 16km/h (10mph), fuel consumption 10 L/100km (24mpg) approx'

Transmission single speed by belt drive, differential.
1885: Gottlieb Daimler (1834-1900) built a motorised bicycle in 1885 and a 4-wheel motor carriage in 1886.
1886 January 29: Karl Benz applied for a patent (granted DRP 37435) for a "vehicle with gas engine operation".
1900: Daimler Motoren Gesellschaft (DMG) produced the first Mercedes car of a modern configuration - 4-cylinder engine, 4-speed + reverse gearbox. It was named after the daughter of Emile Jellinek who ordered a large number and de-facto became the first dealer of Daimler cars. The 1902 Simplex is oldest existing Mercedes.
1902: Mercedes registered as a trademark. On March 1, 1902 the first 40hp Mercedes Simplex was supplied to Emil Jellinek in Nice. It was named after Jellinek's daughter. 'Daimler' is the company, 'Mercedes' is the car brand or marque.
1924: The firms of Daimler and Benz signed an "agreement of mutual interest" and they merged to form Mercedes-Benz in 1926.
1932 March, Geneva Motor Show: Daimler-Benz AG launched the Lo 2000 -- the world's first lightweight two-ton production truck that was optionally available with a diesel engine.
1952 March 12: Launch of the racing sports car version of the 300SL (it of the gullwing doors).
1952: The Mercedes of Lang and Riess won the Le Mans 24-hour race.
1955: A Mercedes Benz 300 SLR, driven by Pierre Levegh, was involved in an accident in the Le Mans 24-hour race and flew into the crowd leading to the deaths of Levegh and 82 spectators. The race continued but Mercedes withdrew from it and, at the end of 1955 from racing in general (until the 1980s).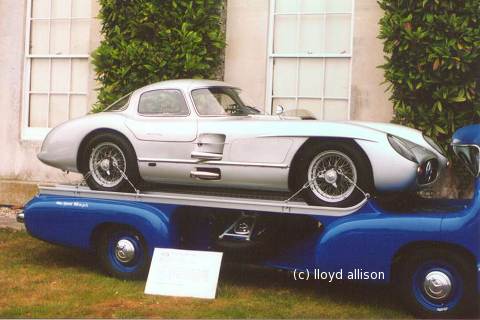 a 1955 300 SL
A 1955 300 SL Gullwing, chassis #198.040.5500533, engine #198.980.5500546, sold for us$1,495,000 at RM Sotheby's Elkhart Collection auction, 23-24 Oct. 2020.
A 1955 300 SL Alloy Gullwing, chassis #198.043.5500332, engine #198.980.5500346 sold for us$6,825,000 at Sotheby's Arizona auction, 27 Jan. 2022.
A 1955 Mercedes-Benz 300 SLR Uhlenhaut Coupe, one of two, was sold for €135 million (a world record) by RM Sotheby's in a private sale, 20 May 2022; note the R in SLR and "coupe".
1957 March, Geneva: 300SL roadster launched.
1979: Gelaendewagen 4x4.
1989: The Sauber-Mercedes of Mass, Dickens and Reuter won the Le Mans 24-hour race.
1997: M-class 4x4.
1998 May 8: Chrysler and Mercedes-Benz announced that they were planning to merge to form Daimler Chrysler Aktiengesellschaft, the new company to be be held by shareholders in Daimler-Benz and Chrysler in the ratio ~57:43. Daimler Benz was then Germany's largest industrial company and Chrysler the #5 car-maker in terms of world production, behind General Motors, Ford, Toyota and Volkswagen. Shareholders in MB and Chrysler approved the deal on 18 September.
2001: Mercedes Benz made replicas of Karl Benz's three wheeler for sale at approximately au$96K.

Benz replica
2007 August: Daimler Chrysler (now Daimler AG) admitted to indigestion over Chrysler and reversed the merger of 1998, selling Chrysler Group, and its liabilities, to Cerberus Capital Management.
2010 April 4: Daimler, Renault and Nissan announced a "wide-ranging" strategic alliance. (Renault and Nissan formed an alliance in 1999.)
2022 February 1: Daimler AG was renamed Mercedes-Benz Group AG.