Rear engined
The Volkswagen Transporter is a car of legend. Born of Volkswagen Beetle mechanical parts, the boxy deliver van became the VW Combi, the flower people's palace on wheels, travelling through Europe, California, and more adventurously India and Morocco, and some of them still do. Ageing hippies turn misty eyed at the thought.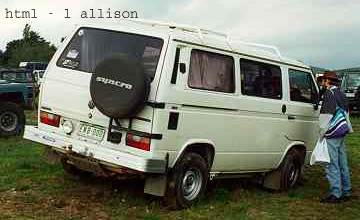 4WD
Syncro
From 1955 to 1976 Volkswagen Transporters were also assembled from kits at Clayton in Victoria, Australia. (The factory was subsequently acquired by Nissan.) The panel fit was not as good as on imported Transporters but the locals went just as well. Volkswagen reports that 77,800 Transporters were registered in Australia.
Volkswagen's air-cooled flat-4 engines have a reputation for rattling on forever, although oil leaks can be a chronic problem and seized valves are not unknown. The rear engined layout put the weight over the rear wheels and gave good traction, but it made the engine susceptible to damage from dust drawn into the air intake on dirt roads. Raised air intakes improved matters.
Volkswagen's final 1982 incarnation of the rear engined Transporter had a water-cooled engine which cured occasional problems with sticking-valves, allowed closer tolerances for reduced emissions, and lowered noise levels. It also introduced the Syncro four wheel drive Transporter which had quite surprising offroad abilities. The 4WD modifications were carried out by Steyr Daimler Puch, part of the deal being that Steyr could use Volkswagen's diesel in their own Pinzgauer. Many VW Syncros were made into four wheel drive campers so that you could go offroading in luxury.
From VW:

1950: first transporter, rear engined, air-cooled, 4x2
1955: assembly begins in Clayton Victoria (end 1976)
1968: Mk2 Transporter, Y-frame chassis
1982: Mk3 Transporter, water cooled, 4x2 or Syncro 4WD
1992: front wheel drive (below)
Tom Niksch writes: Type II is used by Volkswagen as a general name for all the Transporters, Type I was the Beetle, Type III the 1500 sedan and its derivates. Type II T1 (1950), T2 (1967), T3 (1979) and T4 (1990) were used for the revisions, but the may overlap, eg., the Type II T3 series lasted from 1979 until 1992 in European production and lives on in South Africa and South America. So, e.g., the T3 stands for Mk3. (According to: Randolf Unruh, "VW Transporter & Bus", Motorbuch Verlag, Stuttgart.)
To make confusion complete: In the mid to late 1970's there were first 4WD Transporter prototypes built, based on the Type II, T2 with the 70hp air-cooled 2.0 litre Boxer. Steyr-Puch was not involved until the Type II T3 4WD (later named "Syncro") was developed and manufactured in the mid 1980s.
A few additions on the (T3) syncro production figures: (source SDP Graz/Austria)
T3 Syncro total: 43,468, including:
engines:

2.1 l i (95 hp) 14,233
2.1 l i (112 hp) 6,259
1.9 l (78 hp) 6,641
1.6TD (70 hp) 16,335

Transporter

Pritschenwagen Pick-Up Single Cab (245) 1,787
Doppelkabine Pick-Up Double Cab (247) 6,849
Kastenwagen Van, panels (251) 5,848
Kombi Bus (253) 14,650

Caravelle Bus (255) 14,334
16" package: 2,138
regards Tom Niksch.

Front engined
Volkswagen released its new Transporter vans in 1992, moving the engine to the front and also driving the front wheels. It made a lot of sense in terms of improved crash worthiness and increased internal space - allowing a full-length, low floor.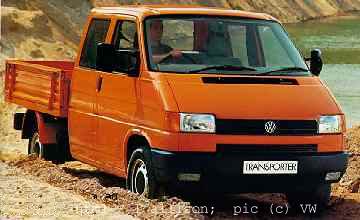 4WD
Syncro
The Volkswagen Transporter was available as a van (short and long wheel base) and as a crew-cab pickup (above). A people-mover version, the Volkswagen Caravelle, became available in Australia in late 1997.
Volkswagen Transporters can be ordered with the optional Syncro "constant four wheel drive system" by a viscous coupling. Volkswagen held to "4WD" terminology rather than the "AWD" alternative. The engine and transmission are transversely mounted in the nose to provide front wheel drive. In the Syncro Transporter, drive is taken off the front differential's crown wheel by a pinion to a propeller shaft. This is in three sections, joined by constant velocity joints, and takes the drive to a rear differential. The viscous coupling is incorporated in the input to the differential. There is no dog-clutch to rigidly lock the viscous coupling.
Rear suspension remains independent by semi-trailing arms on the Syncro, as for the front wheel drive models.
The 1990s' Transporter Syncro is not as capable an offroader as the old rear-engined Syncro which had quite surprising abilities, particularly in the tougher 16"-wheel version. The modern Syncro is more of a slippery-roader than an offroader.
Volkswagen Transporter Series
Transporter Van, 3 seats, 3 doors
loa: 4707mm, width: 1620mm, height: 1415mm
wheelbase: 2920mm, track: 1589mm/1554mm, grnd clearance: 180mm
turning radius: 5.85m
weight: 1525kg-1695kg (unladen), GVM: 2800kg, towing: 700kg (unbraked)
Engines:

2L petrol:

Digifant 1968cc, petrol, 4-cyl
62kW at 4300rpm, 159Nm at 2200rpm

2.5L petrol:

Simos 2461cc, petrol, 5-cyl
85kW at 4500rpm, 200Nm at 2200rpm

2.4L Diesel:

2370cc, diesel, 5-cyl
57kW at 3700rpm
164Nm at 1800rpm-2200rpm

transmission: 5m/4a, Syncro: front wheel drive + drive to rear wheels via viscous coupling
suspension: indep'+torsion-bars/ semi-trailing-arms+coils, brakes: disc/disc
wheels: 6Jx15, fuel-tank: 80L
Price: from $28K (4x2 van) $au, 1997, 1998
Transporter SWB 2.5 petrol or 2.4 diesel 5-spd Synco 4WD $38,490 rrp
Transporter LWB 2.5 petrol or 2.4 diesel 5-spd Synco 4WD $40,490 rrp
Transporter cCab 2.5 petrol or 2.4 diesel 5-spd Synco 4WD $39,990 rrp
Transporter cab chassis 2.5 petrol or 2.4 diesel 5-spd Synco 4WD $35,990 rrp (1998)
Long Wheel Base Van and Crew Cab:
wheel base: 3320mm, van loa: 5107mm, crew-cab loa: 5136mm
turning radius: 6.45m, weight: 1645kg - 1745kg,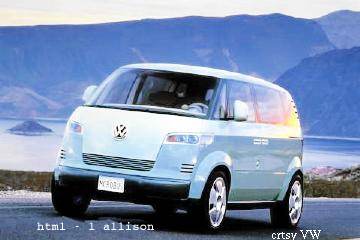 Concept Microbus
2001
Syncro
July
2002
2010: By 2010 the Multivan people-mover (7 to 9 seats) models had

a 2-litre diesel with either a single turbo (103kW, 340Nm), or twin-turbos (132kW, 400Nm),
8.1 l/100km claimed,
7-speed twin-clutch DSG gearbox, and
front-wheel drive or 4motion 4-wheel drive,
from $50K (Comfortline), to $74K (Highline) ($au, 7/2010).