1960s: The Long Range Patrol Vehicle was built for operation across Australia's outback and similar terrain.
1980s: The Perentie is an Australian built Land-Rover, the range including a modified 110 4×4 and a unique, locally designed 6×6.
2001 July 4th: Norforce is a unit of nearly 600 soldiers which monitors the north west coast of Australia. The unit was raised on 4 July 1981. "The NORFORCE group are the most culturally diverse unit in the Australian Army and comprise mainly part-time members of which almost 50% are Aboriginal, with 80% of them coming from remote northern communities" - LandRover .au.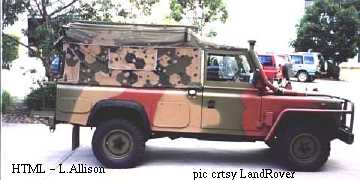 2001 Norforce
2010, February: The Australian Army began taking delivery of Mercedes G-wagens to gradually replace its Land Rovers, as part of Land 121, Project Overlander.