1940: Jeep specification issued and prototypes built by Bantam, Willys-Overland and later Ford; see the Rifkind report.
1941-1945: Jeep MB, built by Willys-Overland and Ford, Willys 2.2L 4cyl side-valve engine.
1942: Ford GPA - Amphibious Jeep or Seep.
1945-1949: CJ-2A the first civilian Jeep.
1948-1953: CJ-3A.
1953-1964: CJ-3B one piece wind-screen, low wipers, and a high bonnet (hood) to clear the taller Hurricane F-head (ioev) motor.
1953: Kaiser take over Willys-Overland.
1955-1969: CJ-5 (a) one piece windscreen, high wipers.
1955-1969: CJ-6 (a) one piece windscreen, high wipers, 101" wheelbase.
1957-1965: FC-150, forward control, 81-inch wheelbase, pickup, was based on the CJ-5 (Corgi (UK) made a scale-model).

Also the FC-170, 103.5-inch wheelbase.
1970: American Motor Co. (AMC) take over Kaiser Jeep.
1970-1983: CJ-5 (b) low wipers. Dropped after 1983 m.y. because of safety issues.
1970-1976: CJ-6 (b), low wipers, 101" wheelbase. Many think that 100" is the best 4x4 wheelbase, 90" restricting load capacity and giving a choppy ride on-road, 110" giving poor manoeuvrability offroad. Nevertheless, the CJ-6 was not all that popular. Dropped in 1976 after the introduction of the popular CJ-7.

1974 CJ-6
1976-1986: CJ-7, 93.4" wheelbase, soft-top or removable plastic hard-top.
1981-1985: CJ-8 or Scrambler, 103.5" wheelbase.
1981-1985: CJ-10 has rectangular headlights and a 9-bar, 10-slot, grille.
1982-1986: Renault owned AMC Jeep (I remember this well because I worked for Jeep in those years as a parts counterman for a dealership & hated the way they set up their microfiche for parts. We also had to deal with the cars Renault made. It was a nightmare. - Kern L. N@poletano).
1987: Chrysler take over AMC (and Jeep).
1987: Wrangler YJ introduced (still leaf sprung). Made from 1986 on, it was derived from the Jeep CJ-7 with a wider chassis and track, a different nose and rectangular headlights. Many parts are common between the Wrangler and CJ-7. The early manual transmission was a Peugeot unit, not particularly strong and it is expensive to repair. The automatic tranmission is more robust.
1996: Wrangler TJ with coil springs and a return to round headlights!
1996: The coil-sprung Jeep Wrangler arrived in Australia.

SWB soft top or hard top Renegade, 2+2 seats, 2 doors, twin airbags
loa 3883mm, width 1740mm, height 1748mm (HT), 1782mm (ST), wheelbase 2373mm, track 1473mm/1473mm, grnd clearance 204mm, turning radius 5.1m (kerb);
weight 1570kg (unladen), GVM 1975kg, payload 420kg (all up)
approach 42°, departure 30°, ramp break over 155°;
3960cc, petrol, 6-cyls, efi, 2-valves/cyl, ohv, cast iron block and head, bore 98.4mm, stroke 86.7mm, c.r. 8.75:1, power 130kW at 4600rpm, torque 290Nm at 3600rpm;
transmission 5m or 3a, part-time 4x4, 5m: 3.83:1, 2.33:1, 1.44:1, 1.00:1, 0.79:1 (4.22:1), diff 3.07:1;
3a: 2.74:1, 1.54:1, 1.00:1 (2.20:1), diff 3.07:1;
Command Trac NV231 transfer case 2.72:1 (lo);
suspension live-coil/live-coil, brakes disc/drum;
tyres P225/75 R15, fuel-tank 72L;
Prices Wrangler Sport Soft Top au$29,990; Wrangler Sport Hard Top au$33,490; Wrangler Renegade au$36,990.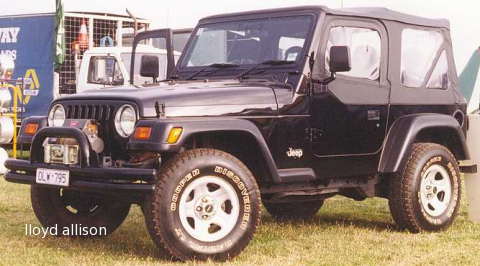 1998
1998:Mercedes Benz and Chrysler merged to form Daimler Chrysler (they split in 2007).
2002 September: Jeep announced a limited edition Wrangler Rubicon (after the Rubicon Trail) for the US: front and rear diff. locks, front and rear Dana model 44 axles (4.10:1), and a "rock crawler" 4:1 low-range transfer case, part-time 4WD, 4-litre PowerTech 6-cyl engine (142kW 4600rpm, 319Nm 3200rpm), 5-speed manual or 42RLE four-speed automatic gearbox.
Loa 3947mm (to spare), width 1693mm, height 1693mm (1764mm hard-top, 1802mm soft-top), track 1473mm/ 1473mm, ground clearance 259mm, approach 42°, departure 32°, ramp-over 151°, tyres LT245/75R16.
2007: Wrangler JK.
2007: Jeep Wrangler Unlimited 4x4 -- long wheel base (LWB), 4-door, Wrangler;

loa 4750mm, height 1800mm-1840mm, width 1877mm, wheelbase 2947mm (116"), weight 1875kg,
3.8-litre V6 SMPI engine, 146kW@5000rpm, 315Nm@4000rpm,
2.8-litre turbo-diesel,
6-speed manual, part-time 4WD,
suspension: coil, live / coil, live,
brakes disc/ disc, ABS, tyres 245/75R16, fuel tank 80-litres,
from us$23.3K, au$35K (2008).

There was a military version of the Unlimited, the J8, including a step back to rear leaf springs.
2008: Jeep J8 (military only), LWB, 2-door, soft-top version,

payload 1250kg (2750 lbs), towing 3500kg (7700 lbs),
4-cyl turbo diesel, 150hp, 295 lb-ft,
5-speed auto; Command-Trac 4WD,
suspension: coil, live / leaf, live,
Dana 60 rear axle, brakes: disc/ disc,
built Cairo, Egypt, "available beginning in July 2008".
2010: Jeep Wrangler 2-door SWB 'Ultimate', 2.8-litre diesel, ~30mpg, £24K (9/2010).

2011: 4-door LWB Wrangler 2.8-litre CRD turbo-diesel, from au$42K + orc (9/2011).