17 December 2002: The Federal Government declined to limit ethanol in petrol to a maximum of 10%, as requested by motoring organisations and some car makers. It said there was no conclusive evidence that car engines might be damaged, but it did issue a warning against using such mixes in outboard (boat) motors, citing safety concerns – if a motor stalled. Seems odd.
8 December 2002: Historic Commercial Vehicle Display, Sandown Racecourse (Melb., Vic, .au).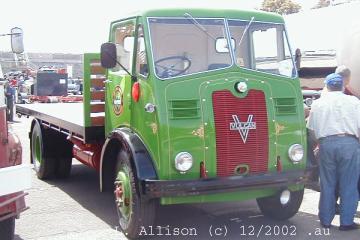 1952 Vulcan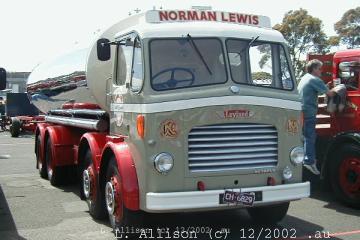 1955 Leyland Octopus
4 December 2002: A total eclipse of the sun crossed the Australian coast at Ceduna, South Australia in the evening and travelled N.E., ending (with dusk) near the NSW - Quennsland border. Thousands of visitors gathered at Ceduna to witness the event.
4 December 2002: Volkswagen announced that it would enter the Dakar Cross Country Rally (was Paris-Dakar) with three prototype buggies (1.9-litre TDI, 160kW). The Rally starts in Marseilles on New Year's Day 2003.
30 November 2002: Victorian state election. Labor had a land-slide victory.
November 2002: The Pirelli calendar 2003 continues the association of cheesecake and wheels. Photographers and locations:

1964 Robert Freeman, Majorca

1965 Brian Duffy, South of France

1966 Peter Knapp, Al Hoceima, Morocco

(1967 Not published)

1968 Harry Peccinotti, Tunisia

1969 Harry Peccinotti, Big Sur, California

1970 Francis Giacobetti, Paradise Island, the Bahamas

1971 Francis Giacobetti, Jamaica

1972 Sarah Moon, Villa Les Tilleuls, Paris

1973 Brian Duffy, London

1974 Hans Feurer, the Seychelles

(1975-1983 Not published)

1984 Uwe Ommer, the Bahamas

1985 Norman Parkinson, Edinburgh

1986 Bert Stern, the Cotswolds, England

1987 Terence Donovan, Bath, England

1988 Barry Lategan, London

1989 Joyne Tennyson, Polaroid Studios, New York

1990 Arthur Elgort, Seville, Spain

1991 Clive Arrowsmith, France

1992 Clive Arrowsmith, Almeria, Spain

1993 John Claridge, the Seychelles

1994 Herb Ritts, Paradise Island, the Bahamas

1995 Richard Avedon, New York

1996 Peter Lindbergh, El Mirage, California

1997 Richard Avedon, New York

1998 Bruce Weber, Miami

1999 Herb Ritts, Los Angeles

2000 Annie Leibovitz, Rhinebeck, N. New York City

2001 Mario Testino, Naples, Italy

2002 Peter Lindbergh, Los Angeles

2003 Bruce Weber, Southern Italy

— Pirelli
24 October - 3 November 2002: Tokyo Motor Show
24 October - 3 November 2002: British Motor Show, NEC, Birmingham. (was www.motorshow.co.uk)
20 - 25 October 2002: 'Melbourne Mille' rally (.au) for classic cars manufactured between 1927 and 1967, departing Park Hyatt in Melbourne and finishing at the Shearwater Cape Schanck Resort, tel: 03 9645 4588. — Chrysler Jeep (sponsor)
18-30 October 2002: ET Fishing Expo & The Off Road 4WD Show, Brisbane.
10-20 October 2002: Sydney International Motor Show.
3-6 October 2002: National 4x4 Show, Melbourne Exhibition Centre.
28 September - 13 October 2002: Paris Motor Show.
15 September 2002, Sunday: A record September day, 28°C in Melbourne, followed by strong winds and numerous bush-fires – perhaps a dangerous summer ahead.
September 2002: Land Rover released details of the Land Rover G4 Challenge for 2003. The event will start in New York on 30 March 2003, lasting five weeks and travelling through North America, Australia and South Africa.
6-8 September 2002: Goodwood Revival Meeting [www].
6-7 September 2002: Dunsfold Collection (LandRover, UK) Range Rover Rally [www] Alfold Road, Dunsfold, Surrey, GU8 4NP, England.
6-7 September 2002: Friday, Saturday, Birdsville Races, outback Australia.
17 - 18 August 2002: British & Midland Hill Climb Championship, Shelsley Walsh Hillclimb, 10 miles W. of Worcester, UK (was www.shelsley-walsh.co.uk) 01886-812-211 tickets.
26 - 28 July 2002: Ateco Warn Challenge 2002 (.au).
19-21 July 2002: Land Rover enthusiast (magazine) show at Billing Aquadrome, Northampton, UK.
17-21 July 2002: War and Peace Show - military vehicles show, Hop Farm Country Park, Paddock Wood, Kent, UK (was www.thewarandpeaceshow.com).
July 2002: In the year to 31 December 2001, Phoenix Venture Holdings Group, which includes MG Rover [made] a loss before goodwill and tax of £187 million. This represents a further halving of the annualised loss for 2000 (~£380 million), which in itself was half of the level of operating losses incurred in 1999 (~£780 million) – the last full year of BMW control [-Phoenix].
15 July 2002: Results of the European Truck Trials event from Nurburgring (was www.europatrucktrial.org).
12-14 July: Goodwood Festival of Speed, time trials not races, but your chance to get near and touch a 2002 F1 car, or a 1904 one. Friday is a treat - setting up and smaller crowds. [www].
12-14 July 2002: Andamooka Precious Stones 4x4 Jamboree - jaylaw2 at bigpond.com.
10-12 July 2002: Australian 4WD Gathering, Tidmouth Well (Tanami Desert) - Outback 4WD Club, PO Box 1351, Alice Springs, NT.
1. Biela/Kristensen/Pirro (Infineon Audi R8) 375 laps, (3,180 miles, 5,120kms) 7 laps more than in 2000.
2. Capello/Herbert/Pescatori (Infineon Audi R8) - 1 lap
3. Krumm/Peter/Werner (Infineon Audi R8) - 3 laps
4. Wallace/Leitzinger/van de Poele (Bentley) - 13 laps
5. Beretta/Lamy/Comas (Oreca-Judd) - 16 laps
6. Sarrazin/Montagny/Minassian (Oreca-Judd) - 16 laps
7. Ara/Dalmas/Katoh (Audi R8) - 17 laps
8. Lammers/Hillebrand/Coronel (Dome-Judd) - 24 laps
9. Taylor/Angelelli/Tinseau (Cadillac) - 30 laps
10. Boullion/Lagorce/Bourdais (Courage-Peugeot) - 32 laps

5-11 June 2002: National 4x4 Show, RNA Exhibition Grounds Brisbane.
8-10 June 2002 (Queen's birthday long weekend): Finke Desert Race [www] N.T. (.au).

Thu 30/5/2002: ULP Melb' 85.9c/L
27 May 2002: The road from Rawson to Walhalla in the Victorian Alps was cut by a land slide. The road was expected to remain closed for at least a week.
23 - 31 May 2002: Thursday 23/5 - Friday 31/5, 4WD Excellent Adventure, organised by the Variety Club of Australia [www], raising funds for children with special needs.
17 - 20 May 2002: 9th Blinman Land Rover Jamboree, South Australia (was come.to/Blinman).

17 May 2002: Alec Campbell (103) the last Gallipoli Anzac, and almost certainly the last surviving combatant from any nation, died in Hobart, Tasmania.

15/5/2002: Crude oil going up: US$29.60 per barrel

30 April 2002: General Motors (GM) bought 67% of the Korean manufacturer Daewoo Motor for US$1.2 billion.
26 April 2002: Mitsubishi committed to new investment in Australia, including the establishment of a global research and development centre [-FCAI].
25 April 2002, Thursday: Anzac Day.
25 April - 5 May 2002: Turin Motor Show.
20-21 April 2002: Cruiserkhana 2002 - Toyota Lancruiser Club Vic (.au).
16 April 2002: New on

(was www.europatrucktrial.org)

1 11./12. May Roppen A confirmed / bestätigt
2 18./19. May Montalieu/Vercieu F confirmed / bestätigt
3 13./14. July Nürburgring D confirmed / bestätigt
4 20./21. July Ystad S confirmed / bestätigt
5 03./04. August Osnabrück D confirmed / bestätigt
6 31./01. September Voitsberg A
7 07./08. September Pecs H confirmed / bestätigt - Dirk
14 - 24 April 2002: Kidney 4WD Adventure, Byron Bay to Fraser Island via Lark Quarry & Carnarvon Gorge The annual Kidney 4WD Adventure is a family fun drive event that combines the fun and thrills associated with four wheel driving and camping in the great outdoors, while raising much needed funds for the Australian Kidney Foundation. For more information, please contact the Australian Kidney Foundation on 1300-300-544, [www]

Thu 11 April '02: ULP Melb' 87.9c/L

Wed 10 April '02: ULP Melb' 88.9c/L

April 2002: The fuss over many recent speed- (and danger-) oriented ad's for cars (in .au) prompted the Federal Chamber of Automotive Industries (FCAI) to look at developing a safety-oriented code of practice for advertising motor vehicles.
6-7 April 2002: Dunsfold Collection (LandRover) Parts Open Weekend [www] Alfold Road, Dunsfold, Surrey, GU8 4NP, England.
4 April 2002: New Zealand's Rod Millen won the 'Race To The Sky' hillclimb at Queenstown in a (very special) turbocharged Toyota HiLux ute. Millen's time was 8 minutes 43.76 seconds for the 15km course which finishes at an altitude of 5000 feet. (Millen has won the Pike's Peak hillclimb, Colorado, USA, 5 times.) [-Toyota].

Thu 28 March '02: ULP Melb' 94.9c/L - pre-easter

29 March Friday - 2 April Tuesday: Easter.
27 March 2002: Hope - Nancy Wright & Amir Colombo depart London on their expedition to Cape Town via the middle east to raise awareness of the difficulties of life faced by children in Africa with the end results of collecting funds for HOPE projects in South Africa (was www.hope-for-children.org).

Sat 23 March '02: ULP Melb' 90.9c/L
Thu 21 March '02: ULP Melb' 83.5c/L
23-24 March 2002: Saturday - Sunday, Ballarat 4wd Adventure Weekend, Smythesdale Progress Park, 15 minutes out of Ballarat (Vic').
16-17 March 2002: Pajero Challenge, Pajero Club Vic' .au.

14 March '02: ULP Melb' 83.5c/L
14-17 March 2002: National 4x4 Show, Darling Harbour, Sydney. Thurs 4pm-9pm, Fri & Sat 10am-9pm, Sun 10am-6pm.
14-17 March 2002: East Coast Classic Rally (NSW, .au), includes a 'marathon category' in addition to its previous 'competition' and 'touring' categories for pre-1978 cars. The 2002 event starts in Sydney on Thursday, March 14, travels south to Camden and Picton, then through the Blue Mountains and west to Bathurst. Three nights are spent in Bathurst with most of the driving done in the Orange, Blayney and Oberon region before finishing in Sydney on the afternoon of Sunday, March 17. Sponsor: Motor Accidents Authority of New South Wales. Event Director: John Flower (02)-9410-2411.
11 March 2002: Monday, Labour day weekend (Vic .au).
3 March 2002, Sunday: Australian Formula One Grand-Prix, Melbourne. 1. M. Schumacher (Ferrari), 2. J. P. Montoya (Williams-BMW), 3. K. Raikkonen (McLaren-Mercedes). Australian Mark Webber (Minardi) was 5th in his first F1 race.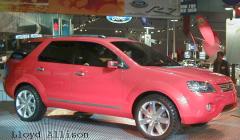 28 February - 11 March 2002: Melbourne Motor Show, Melbourne Exhibition Centre (was www.motorshow.com.au), included the new Range Rover III and concept 4x4 passenger vehicles by Ford Australia (R7, right) and GM Holden (X8). Morgan is back, and Lamborghini showed the new Murcielago.
19 February 2002: Ford will build a modern road-going version of the Ford GT40 that won the Le Mans 24-hour race in 1966, 1967, 1968 and 1969. The '40' refers to the original car's height in inches; the new car will be 4" taller and 18" longer. Next year, 2003, is Ford's 100th anniversary.
17 February 2002: Sunday Victorian Four Wheel Drive Field Day, Wandin, (Melways 119,G7), 9.30am - 4.00pm [www] 120+ commercial exhibitors, 4WD demonstration track, family entertainment.
15-17 February 2002: Trucks in Action, Lardner Park, Warragul, Victoria, .au.
15 February 2002: Nissan Patrol ST 4.8 won 4x4 Australia magazine's 4x4 of the year award.
7 - 16 February 2002: Amsterdam Motor Show.
26 January 2002, Australia Day: As part of the celebrations in Melbourne, many historic cars gathered in 'The Domain', organized by the RACV.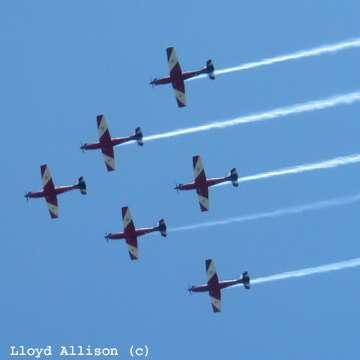 26 January
24 January 2002: UPF-Thompson, the sole supplier of Discovery chassis to LandRover (Ford) is in receivership under KPMG. LandRover and KPMG have not reached a deal on supply, and LandRover is seeking an injunction to maintain supply so that it can continue production [-ft.com].
| | |
| --- | --- |
| 17 - 20 January 2002: Victorian 4WD Jamboree, Licola, Victoria. Contact: PO Box 596, North Balwyn 3104. | 10/2001: cancelled or postponed? |
15 January 2002: The BMW X5 was the Overlander (magazine) 4×4 of the year 2001.
13 January 2002: Hiroshi Masuoka (Mitsubishi Pajero) won the Arras- Madrid- Dakar Rally.
Jean-Jacques Ratet and Jean-Pierre Garcin (Toyota LandCruiser 100-Series) finished 9th overall and won the overall unmodified production class (Petrol + diesel).
12 - 20 January 2002: North American International Auto Show in Detroit, i.e. Detroit Motor Show including the new Range Rover III.
28 December 2001 - 13 January 2002: 2002 Dakar Rally start, finishing January 13, 2002. The rally started from the rural city of Arras 170km north of Paris. The course runs over 9,436km through five countries, France, Spain, Morocco, Mauritania and Senegal. The previous T2 and T3 classes were merged into the new Super Production Class - [www]

4 Jan '02: ULP Melb' 86.9c/L
3 Jan '02: ULP Melb' 76.9c/L
European Truck Trials: vorläufige Termine / preliminary dates 2002 (Stand 21.12.01)

1: 11/12 May Roppen A confirmed / bestätigt
2: 18/19 May Montalieu F confirmed / bestätigt
3: 08/09 June Ystad S ???
4: 03/04 August Osnabrück D confirmed / bestätigt
5: 10/11 August Harderwijk NL
6: 07/08 Sept. Mohelnice CZ
7: 14/15 Sept. Pecs H confirmed / bestätig
geaendertes Reglement in Kuerze / updated rules comming soon!

Alles Gute / all the best, Dirk (webmaster)

(was www.europatrucktrial.org)