Wed 10/12/2003: ULP Melb' 81.9c/L
2 December 2003: "Once in a 100 years" thunder, lighting, rain and hail swept over parts of Melbourne.
30 November 2003: Historic Commercial Vehicles show, Sandown racecourse, Melbourne, Vic..
23 November 2003: Rover Car Club of Australia, Concours d'Elegance, Monash University, Clayton Campus.
25 October - 5 November 2003: Tokyo Motor Show (press 23, 24 Oct).
23-26 October 2003: National 4x4 Show, Melbourne (Exhibition centre), Vic [www].
17-26 October 2003: Sydney Motor Show.
16-25 October 2003: Amsterdam Motor Show (press 15 Oct).

Thu 2/10/2003: ULP Melb' 80.9c/L
Thu 25/9/2003: ULP Melb' 84.9c/L
25 September 2003: The last section of track was fixed in the new railway line between Alice-Springs and Darwin. The line will not be in service for a few months yet.
11-21 September 2003: Frankfurt Motor Show (press 9, 10 Sept).
5-7 September 2003: Goodwood Revival (uk) [www].

Tue 26/8/2003: ULP Melb' 85.9c/L
Wed 20/8/2003: ULP Melb' 97.5c/L
23-30 August 2003: Australian Safari, NSW.
22 August 2003: Snow fell in the south of W.A. – very unusual.
20 August 2003: After bobbing around for weeks in the 80c-90c/L range, ULP jumped to 97.5c/L for no very obvious reason.
August 2003: Car sales .au for July, 'Light' #1 Toyota Echo 21%, 'Small' #1 Toyota Corolla 21%, 'Medium' #1 Toyota Camry 52%, 'Large' #1 Holden Commodore 21% (#2 Ford Falcon 36%), 'SUV Compact' #1 Nissan X-Trail 16%, 'SUV Medium' #1 Toyota Prado 39%, 'SUV' Large' #1 LandCruiser wagon 60%, 'SUV Luxury' #1 BMW X5 19%, 4×2 ute #1 Ford Falcon ute 28%, 4×4 ute #1 Toyota Hilux 28%. Crtsy of V facts.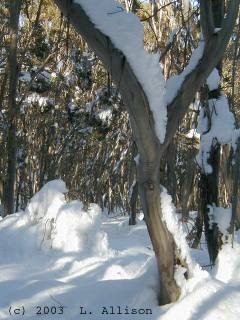 31 Jul 2003: More snow in the Victorian Alps. Right: Lake Mountain, 2 Aug.
27 July 2003: Sydney Land Rover Club is having its Annual Field Day and Swap Meet from 10am at the Museum of Fire, Penrith, NSW.
26 July 2003: Saw a LandRover 90 in ULR, an Xtreme with all the bits, at au$50.3K. (Later heard that they are available for au$46K so maybe the higher price included extras and/or o.r.c.?)
24 July 2003: Good snow falls across the Victorian Alps (at last).
July 2003: The BBC motoring show, Top Gear, named the Land-Rover the "Greatest Car of All Time" after a viewers' poll.
July 2003: Vehicle safety ratings at the USA (was www.hwysafety.org), e.g., Discovery I and II.
July 2003, the new stamp collecting: confluence.org's [www.org] stated goal "is to visit each of the latitude and longitude integer degree intersections in the world, and to take pictures at each location" – to be posted at the web site [via J.F.].
22 July 2003: Ford plans to move LandRover Freelander 4×4 production (next model, c2005) from Solihull to Halewood, Merseyside (beside the Jaguar X-type).
18-20 July 2003: Land Rover enthusiast (magazine) show at Billing Aquadrome, Northampton, UK (tel:01379-890056).
16-20 July 2003: The War and Peace Show - military vehicles, Beltring, Paddock Wood, Kent, UK (was www.thewarandpeaceshow.com).
11-13 July 2003: Goodwood Festival of Speed (uk) [www]
21 June 2003, TruckTrial-TV: (was www.fernfahrer-tv.de) auf VOX 8 Minuten aus Roppen — [www].
19 June 2003: From the Land-Rover mailing list – (was web.bham.ac.uk/l.chapman) or wetroads [.co.uk] an online guide to every ford, watersplash and tidal road in the UK!
14-15 June 2003: Le Mans 24-hour race. Bentley (i.e. VW) Speed-8 coupes finished 1 (Tom Kristensen, Dindo Capello and Guy Smith) and 2 (Johnny Herbert, Mark Blundell and David Brabham), followed by Audi (i.e. VW) R8s.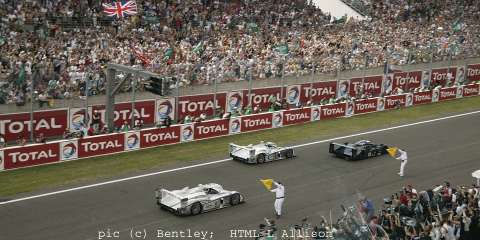 28 May 2003: The premiere of the "remake" of The Italian Job was held in Los Angeles. The movie features the (new) Mini Cooper and Cooper S, of course. Much of the new movie's action is set in Los Angeles, of course.-( The cast of the original Italian Job (1968) included Michael Caine, Noel Coward and Benny Hill! It remains one of the great auto' movies.
20 May 2003: 5cm of snow fell at Mt. Hotham (Vic). Is this a sign of a good snow season to come?


Wed 14/5/2003: ULP Melb' 81.9c/L

14 May 2003: John Bellfield's collection of military vehicles, i.e. the Melbourne Tank Museum, is looking for a new home [-ABC TV].

30 April 2003: "Possum Bourne [1956-2003] passed away peacefully at Dunedin Hospital, New Zealand. ...
[He] never regained consciousness after being involved in a traffic accident on the Snow Farm Rd. in the Cardrona Valley near Lake Wanaka in Central Otago on Good Friday, April 18. ...
Possum, the ARC champion from 1996-2002, is survived by wife Peggy and the couple have three children, a daughter Jazlin, aged three, and two sons, Taylor, eight and Spencer, four. " [– Subaru Australia]

29 April 2003: Rudi Thoelen (Belgium) won the Land Rover G4 Challenge — Moab, USA.

25 April 2003: Anzac Day (Friday).


Fri 18/4/2003: ULP Melb' 83.9c/L

18 - 22 April 2003 (Fri-Tues): Easter.

April 2003: The price of petrol gradually came down as the USA & allies won war against Iraq.
30 March 2003: The annual Land Rover G4 Challenge starts in New York

(was /www.landroverg4challenge.com)

. It runs for five weeks.


30/03: New York City, Catskills, Freelander.

06/04: Cape Town, Knysna, Defender.

13/04: Perth (WA), Pilbara, Sydney, Range Rover.

21/04: Las Vegas, Canyonlands Moab, Discovery. ...26/4

Fri 21/3/2003: ULP Melb' 96.9c/L
22-23 March 2003 (Sat. - Sun.): Ballarat 4WD Adventure Weekend, Smythesdale (15 minutes south of B'), Victoria, .au – Ballarat 4WD Club.
20 March 2003: The American-led war against Iraq to unseat Sadam Hussein began.
15-16 March 2003: Pajero Challenge (Vic, .au).
10-16 March 2003 (Mon - Sun): GPA Swim-in and Military Vehicle Rally, Corowa, N.E. Vic, .au, ''main programme events are between Friday afternoon and Saturday evening'' (was remlr.150m.com/remlrcorowa2003.html). (Also incorporating a celebration of the 40th anniversary of the Series 2A Land-Rover entering service in the Australian Army March 1963.)
6-16 March 2003: Geneva Motor Show (press 4, 5 March).

7-9 March 2003: 27th Port Fairy Folk Festival, Vic, .au.

6-9 March 2003: Australian F1 Grand Prix, Albert Park, Vic., .au, main event Sunday 2pm.
1: David Coulthard, McLaren Mercedes;
2: Juan Pablo Montoya, Williams BMW;
3: Kimi Raikkonen, McLaren Mercedes.


28 February - 10 March 2003: Melbourne International Motor Show (Melbourne Exhibition Centre).
Highlights: A D90 Xtreme, also some good Australian engineering, e.g. Mitsubishi Magna AWD sedan (right, went on sale last year), prototype Ford Territory AWD station wagon (was R7 concept last year), Toyota Xcrosser ute concept.


Magna sedan AWD

Sat 1/3/2003: ULP Melb' 102.9c/L
Thu 27/2/2003: ULP Melb' 95.6c/L
Fri 21/2/2003: ULP Melb' $1.04/L,i

as the probability of war between the US (+.uk and .au) and Iran increased.



21 Feb 2003: There were good falls of rain across Victoria (about 1" in Melbourne, up to 5" in the N.W.) which would not be remarkable in a normal year but is now.
16 Feb 2003, Sunday: Victorian 4WD Show, Wandin, Victoria, .au.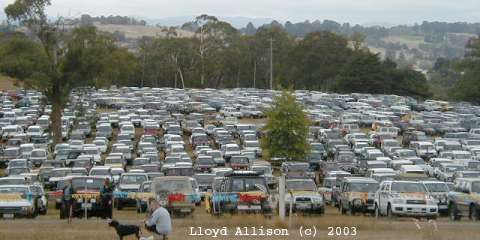 Part of the car-park
14-16 February 2003: Australian International Airshow — (Avalon Airshow) — between Melbourne and Geelong, Vic, .au; this one comes around every two years.
February 2003: The Merc. 'Smart' micro(?)-car (3-cyl, 698cc, turbo, 45kW) announced to go on sale soon in .au – coupe $21,900, cabrio $26,900 ($au). Visitors to Europe – where parking is a competitive sport – will have seen a few.
7 Feb - 16 Feb 2003: Amsterdam Motor Show (press 6 Feb).
7 Feb ..., 2003: Brisbane International Motor Show.
January 2003: Citroens were 1-2-3 in the Monte Carlo Rally. They used hydraulic anti-roll bars by Kinetic of Dunsborough, Western Australia (was www.kinetic.au.com). (Kinetic is owned by Tenneco Automotive (USA) which makes Monroe and Rancho suspension parts.)
26 January 2003, Sunday: Historic Vehicle Display, Kings Domain, Melbourne .au (RACV).
25 January 2003: 44°C in Melbourne, and bushfires threatened Omeo in the Victorian Alps.
23 January 2003: Bush fires were burning close to Beechworth and other towns in N.E. Victoria.
22 January 2003: Overlander 4WD magazine (.au) voted Range Rover SE Td6 the 4WD of 2002.
19 January 2003: Hiroshi Masuoka and Andreas Schultz (Mitsubishi Pajero /Montero Evolution) won the 2003 Dakar Rally. Mitsubishis finished 1-2-3-4. Nissans were 5th and 7th, a VW Tarek 6th, and a BMW X5 9th [www].
Trucks: 1. V. Tchaguine, S. Yakoubov, S. Savostine (Kamaz - 4x4 Essieu Avant),
2. A. De Azevedo, T. Tomecek, J. Martinec (Tatra - 4x4 Essieu Avant),
3. F. Kabirov, A. Belyaev (Kamaz - 4x4 Essieu Avant).
Motorbikes: 1. R. Sainct (KTM), 2. C. Despres (KTM), 3. F. Meoni (KTM).
TV (.au) – SBS Sunday 26th January 11am.
19 January 2003: 4 people were killed and 400+ houses destroyed as bush-fires hit Canberra, the Australian capital. Major fires continued to burn in the Kosciusko National Park (NSW) and near Hotham and Mt. Buffalo (Vic).
11-20 January 2003: Detroit Motor Show.
4-12 January 2003: Los Angeles Auto Show, Los Angeles Convention Center.
1 January 2003: The Dakar Rally starts in Marseille, France. It runs through Spain, Tunisia and Libya to Sharm El Sheikh (19 Jan') on the Red Sea in Egypt [www].
For 2003: EuropaTruckTrial [www] Termine 2003 / Dates 2003:
03./04.Mai Roppen/Österreich bestätigt/confirmed
31.Mai/01.Juni Sardinien/Italien
07./08.Juni Montalieu/ Frankreich bestätigt/confirmed
19./20.Juli Nürburgring/Deutschland bestätigt/confirmed
02./03.Aug. Osnabrück/Deutschland bestätigt/confirmed
30./31.Aug. Budapest/Ungarn bestätigt/confirmed
06./07.Sept. Voitsberg/Österreich bestätigt/confirmed
– 18/12/'02